Regardless of where you venture – within, or just beyond the boundaries of Santa Fe – you'll enjoy having found one of those rare cities that possesses a genuine sense of community.

The historic Plaza, the area's many shops, boutiques, art galleries and restaurants, or the nature-filled recreational areas surrounding the city, quickly reveal why Santa Fe is lauded by its residents so passionately. Anyone who has lived in Santa Fe, even for a year, soon becomes part of a community that has a deep appreciation for its culture and unique lifestyle.

The City Different's one-of-a-kind way of life also infuses its many neighborhoods, bringing a glorious variety of expression, beauty and charm. From traditional, master-planned communities to historical city districts to more remote, exclusive living, there is a Santa Fe neighborhood to fit every luxury lifestyle.

Let's explore several of Santa Fe's top luxury enclaves to discover which Santa Fe neighborhood might be perfect for you.
A Genuine Community Experience
For those who favor a traditional neighborhood lifestyle – albeit in a very non-traditional setting – Santa Fe offers many ideal communities. World-class golf. Recreation centers. An abundance of family-centered amenities. Active adult living. Whatever your social or personal needs, there is a Santa Fe community to cater to them.

Of course, there are also spectacular custom homes, and pristine homesites awaiting your own architectural masterpiece. For a true community-centered lifestyle, start your search with one of these neighborhoods.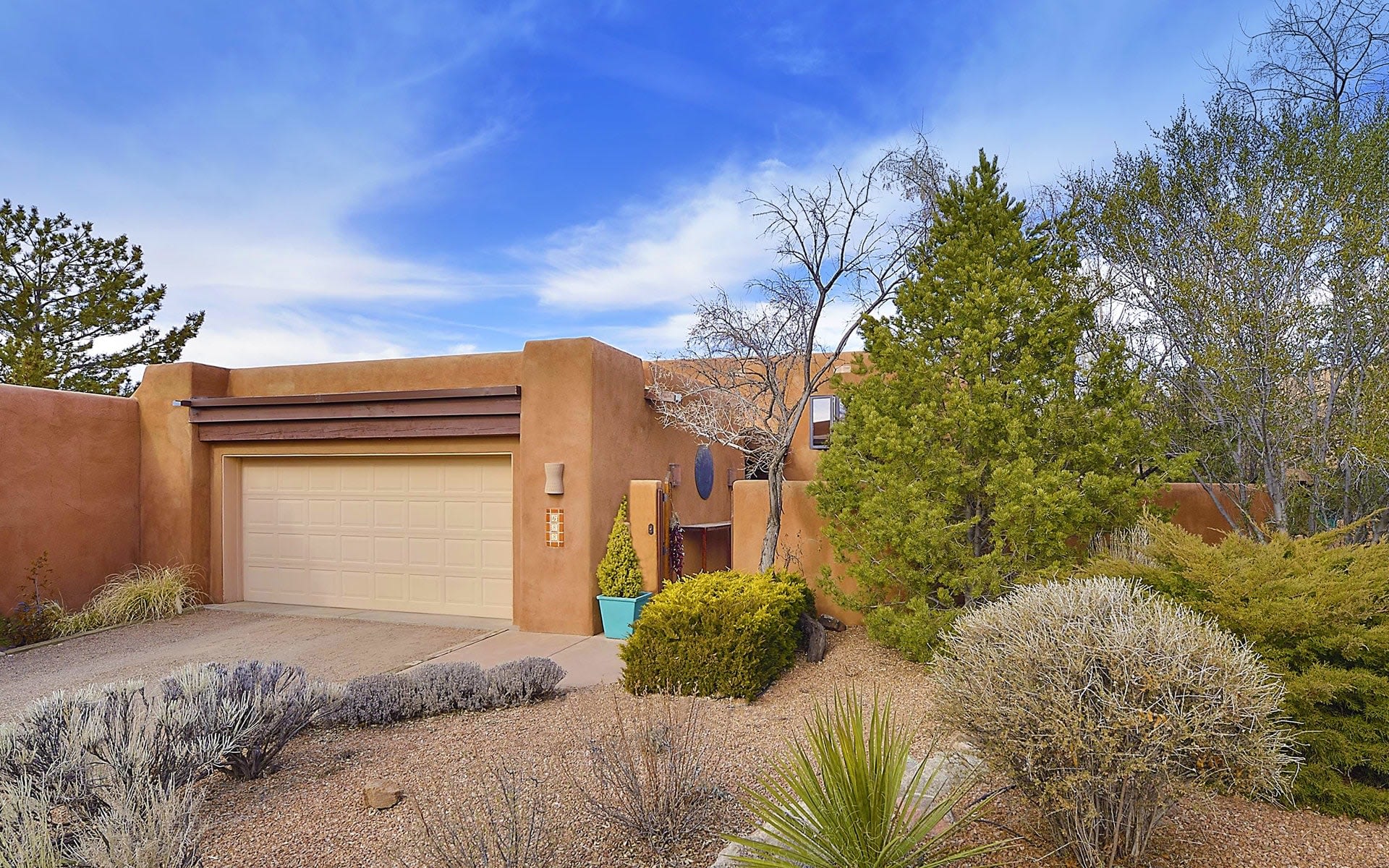 This stellar community roughly a mile east of Santa Fe's historic Plaza is a collection of nine separate neighborhoods, each with its own style, aesthetic, and independent homeowners association. The perks of Estancia Primera are many and feature access to the Cupin Recreation Center, including tennis and racquetball courts, swimming pool, and clubhouse. Available residences include single-family homes, condominiums, and townhomes. Read more.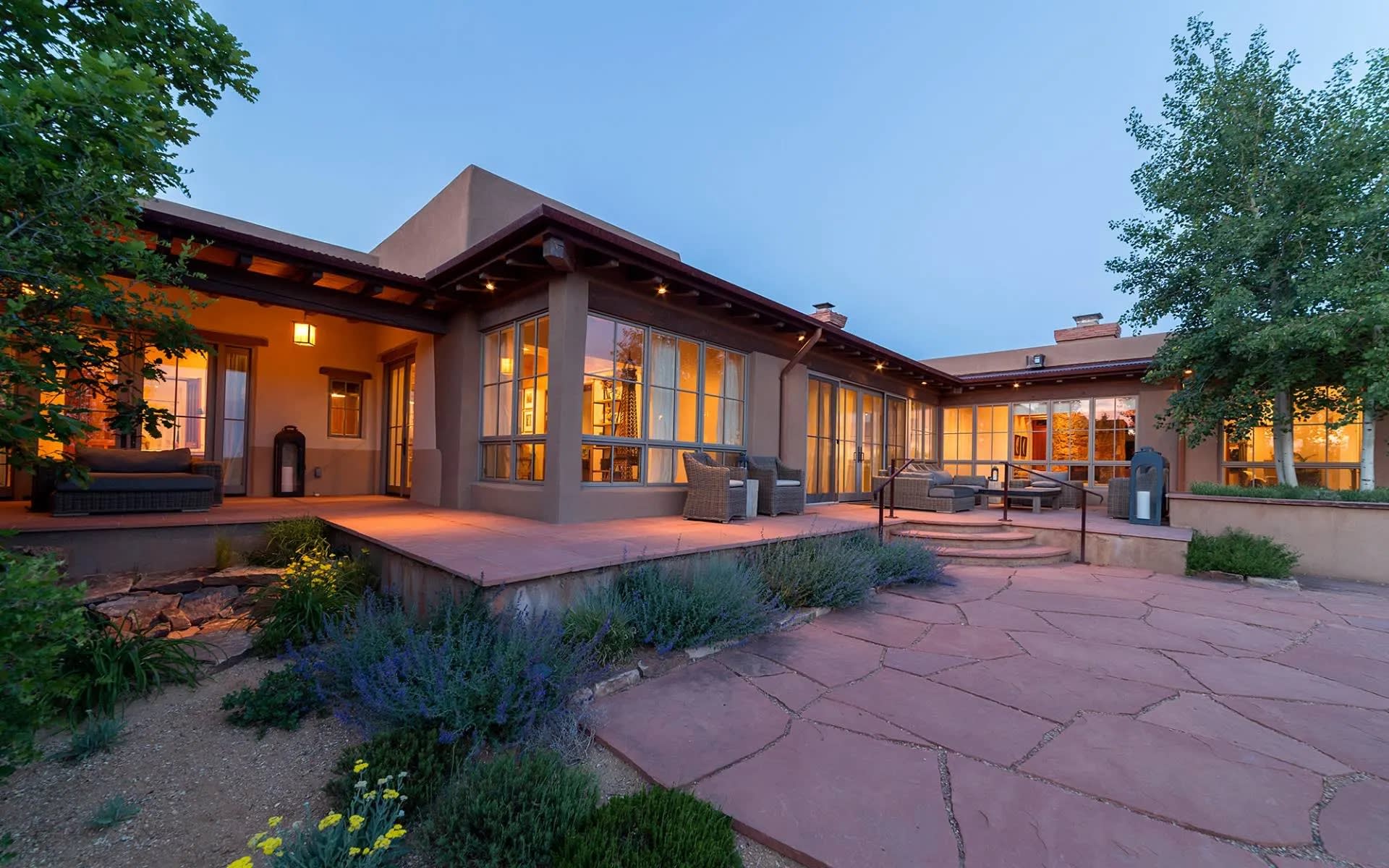 4,700 total acres surrounded by multiple mountain ranges. 17 distinct neighborhoods. A 46,000-square-foot Hacienda Clubhouse. Two Jack Nicklaus Signature golf courses. A spa and tennis center as well as the Las Campanas Equestrian Center. 24/7 guard-monitored, gated access. In short, the numbers do not lie. Las Campanas is spectacular by every metric imaginable. Read more.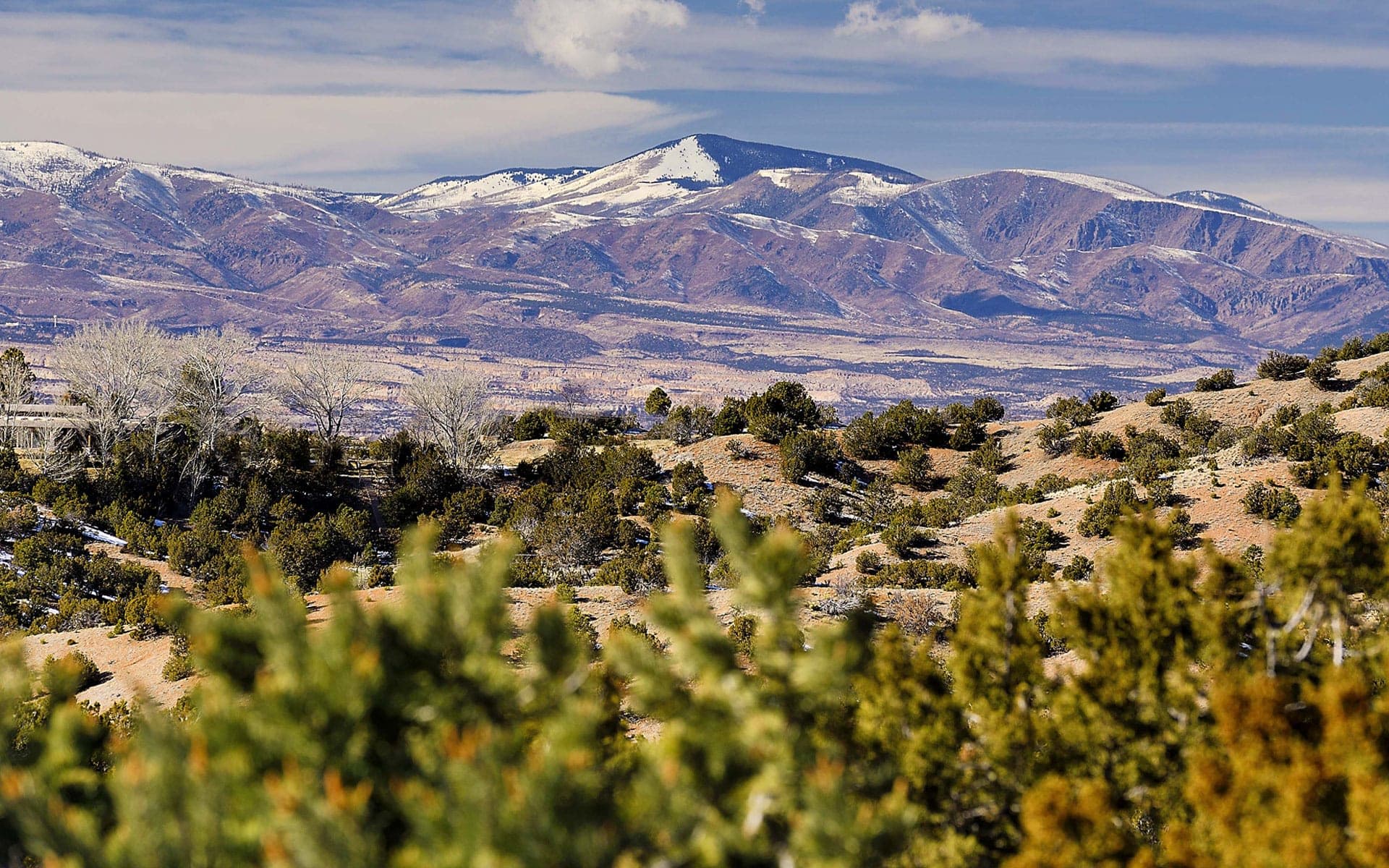 Encompassing four separate communities, La Tierra appeals to those who prefer variety in a neighborhood. The thoughtfully plotted subdivisions are arguably one of Santa Fe's most spacious. Homes don't sit on top of one another, and there's plenty of elbow room across the meandering landscape. Houses are a mix of modern and traditional, each providing a standout view of the surrounding mountain ranges. Read more.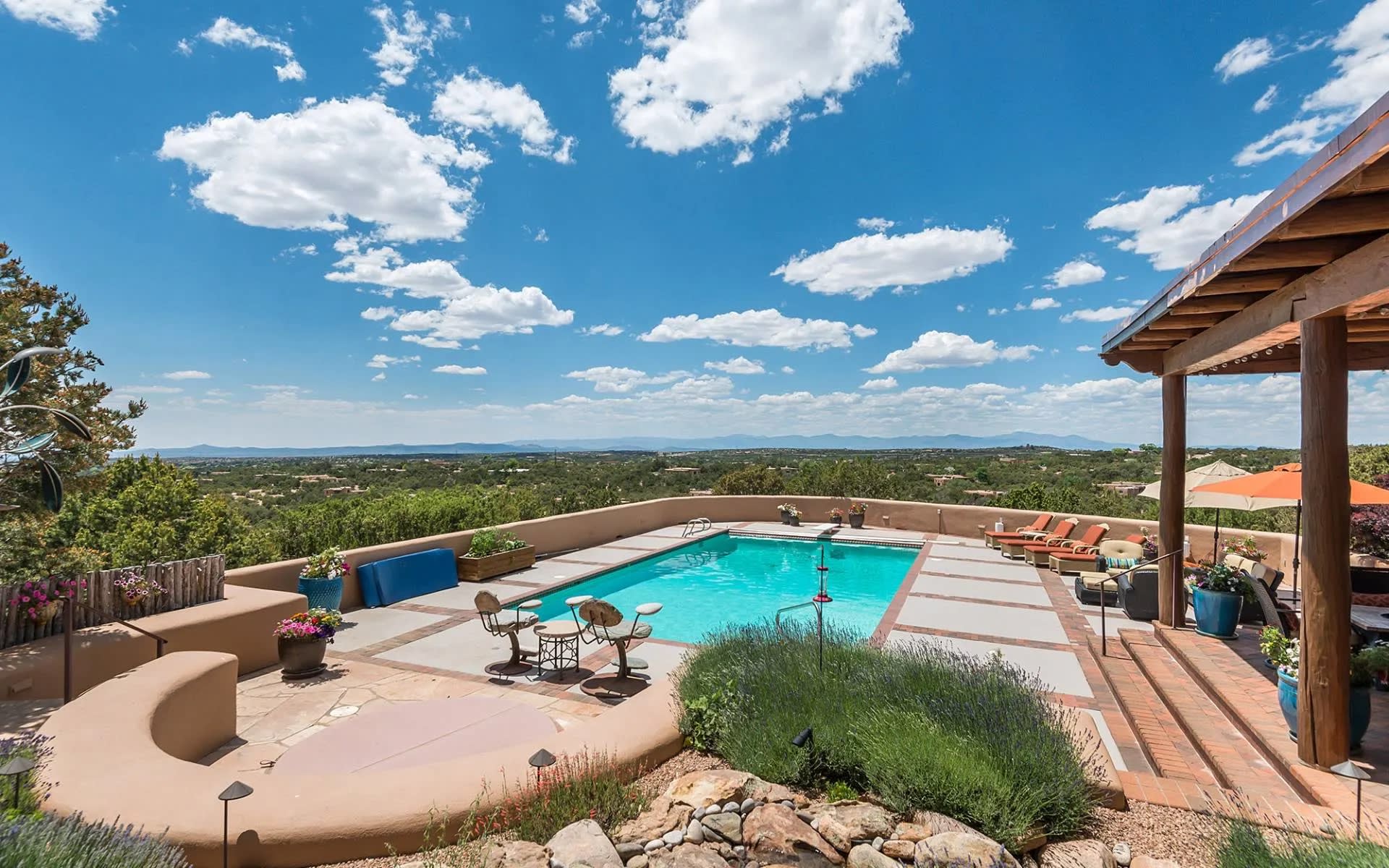 At an elevation of 7,600 feet, Sierra del Norte takes full advantage of the landscape, providing panoramic views from just about every home. Aside from being close to Santa Fe's most popular establishments and amenities, the neighborhood is adjacent to the 22-mile Dale Hall Hiking Trails. Read more.
Active and Amongst Nature
It's by no means a stretch to consider Santa Fe a top outdoor destination. Fishing, golfing, hiking, horseback riding, mountain biking, and rafting are favorite activities. In the winter, there's plenty of skiing and snowboarding.

In other words, Santa Fe is an outdoor lover's playground – one for both young and old alike. The best way to take advantage of the area's natural sporting appeal? Live in a neighborhood that provides direct access to your favorite pursuit. Or favorite national forest. Or park. Or mountain range.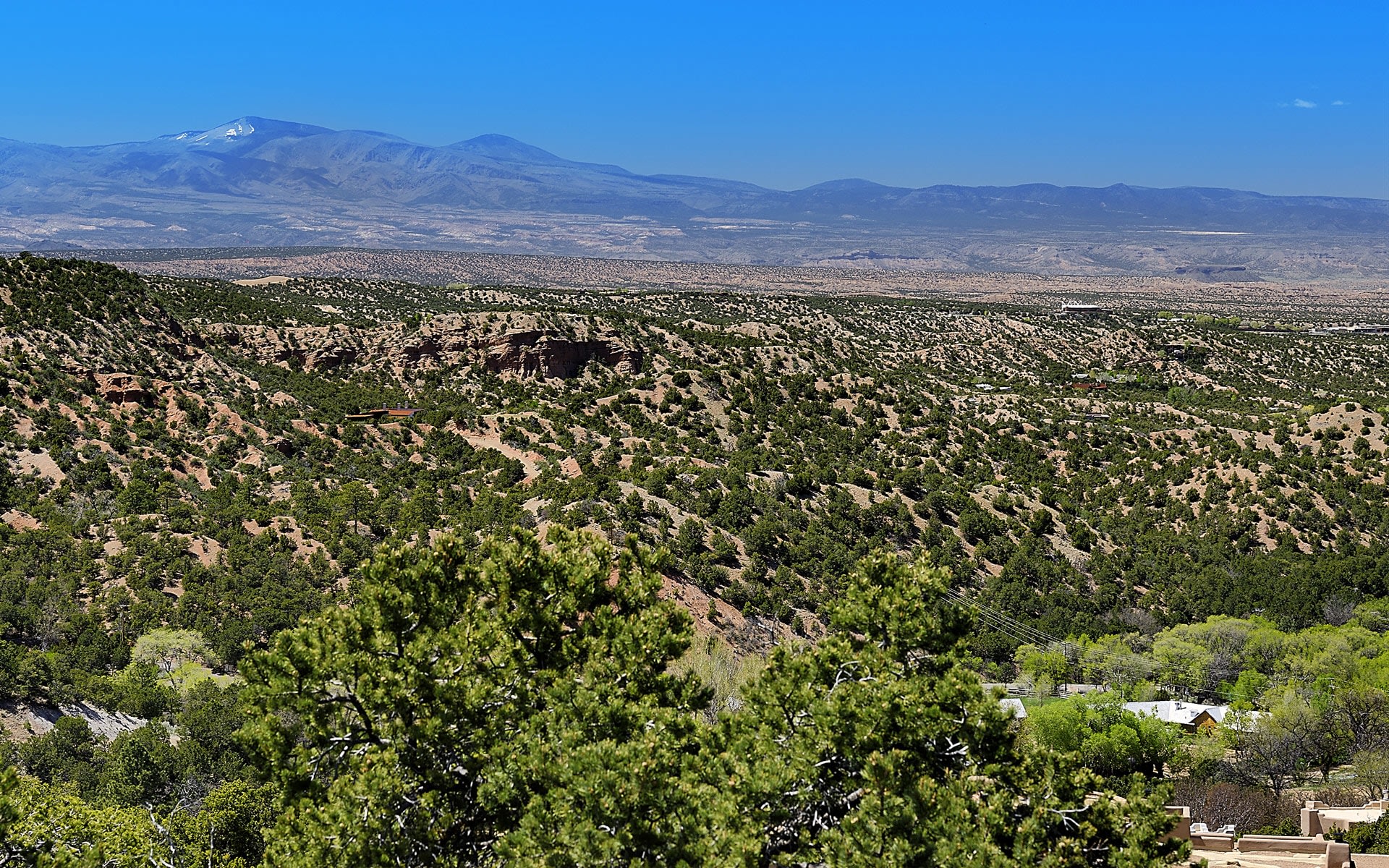 Set at the foothills of the Sangre de Cristo Mountains and bordering the Santa Fe National Forest, the central selling point for Bishop's Lodge Hills is that the community genuinely feels as though it's an extension of the natural surroundings. Lots range from one to over three acres, and each provides homeowners with immaculate Rio Grande Valley and Jemez Mountain views. Winter is a favorite season here, with the Santa Fe Ski Basin 10 minutes away. Read more.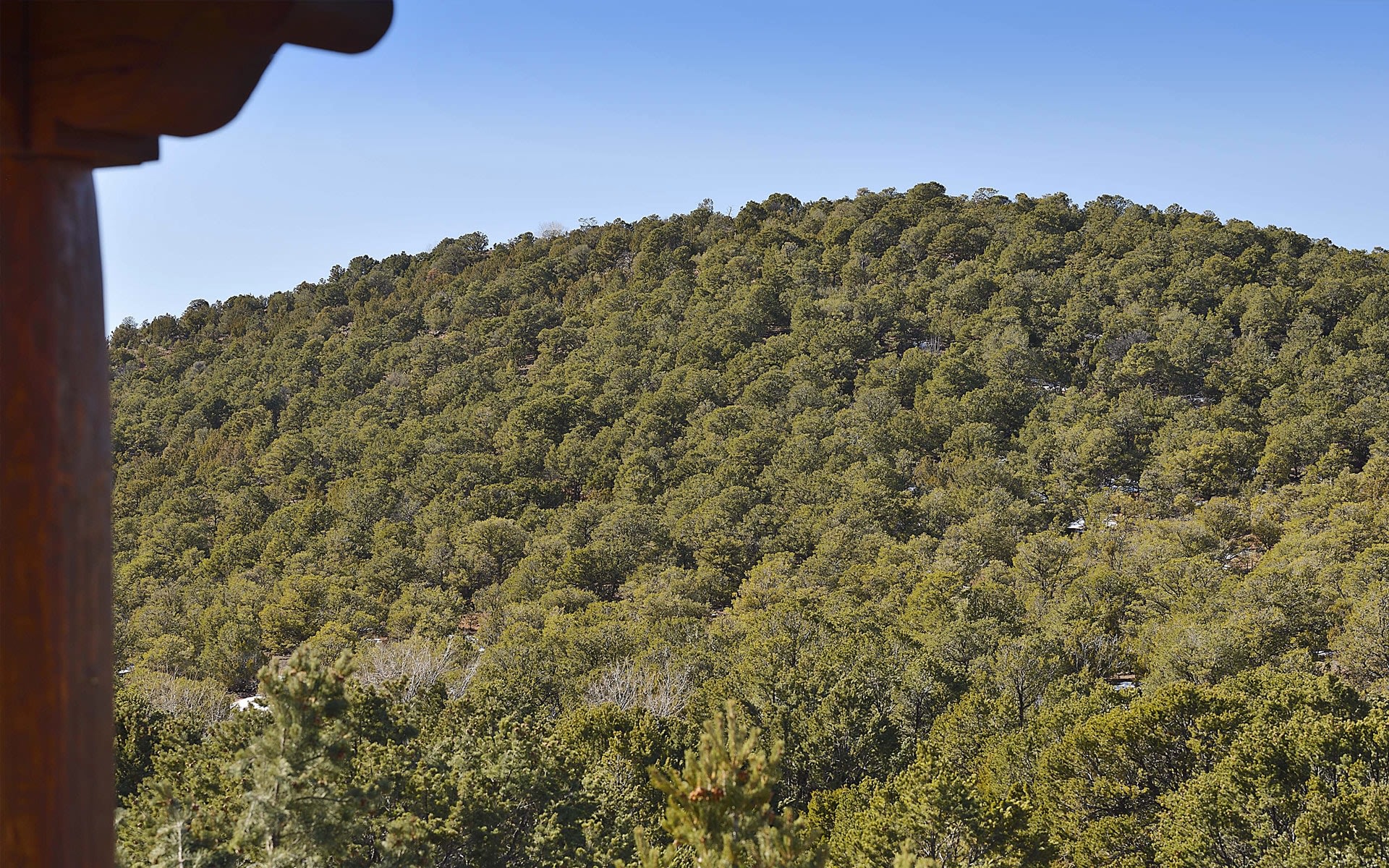 Spanish for "color-tinted hills," Cerros Colorados is a spectacular mountain valley community with immediate access to biking, hiking, and skiing. The neighborhood is also conveniently close to Santa Fe's downtown district and celebrated Opera House. Two-acre lots accommodate some of the area's top custom-built homes. Read more.
The semi-retirement community of Quail Run is ideal for those seeking out the luxurious trappings of Santa Fe without the upkeep and maintenance of a single-family home. A PGA-rated nine-hole golf course anchors 265 condominium residences set behind secure gates. The lifestyle is an active one with a clubhouse that plays host to an activity-filled community calendar. Read more.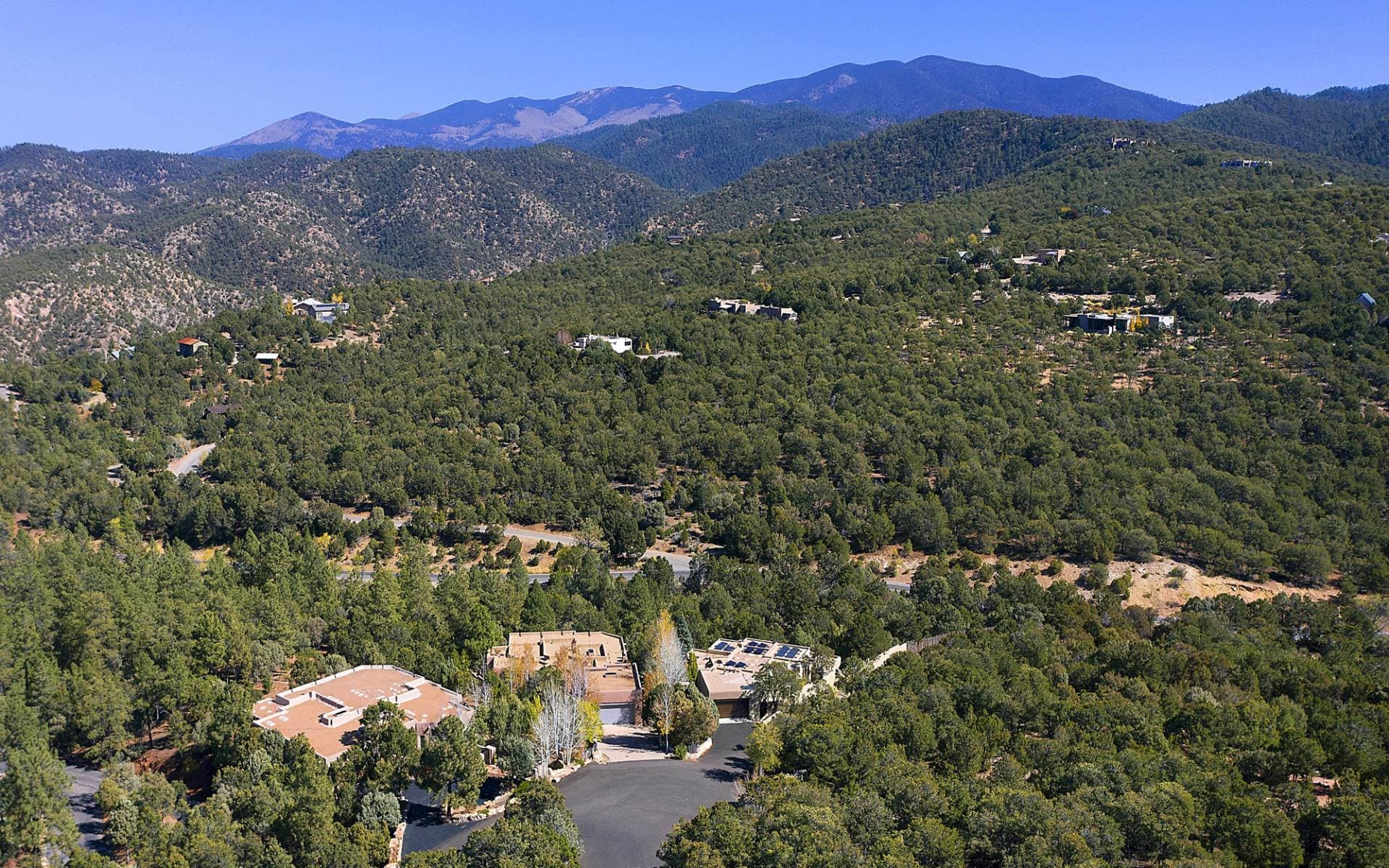 Perhaps the two communities that take the most advantage of their surroundings, Summit and High Summit border the Santa Fe National Forest on all sides. The gated neighborhoods offer Santa Fe's top mountainside lifestyle with views extending for miles in every direction. Neighbors include deer and a menagerie of wildlife. Read more.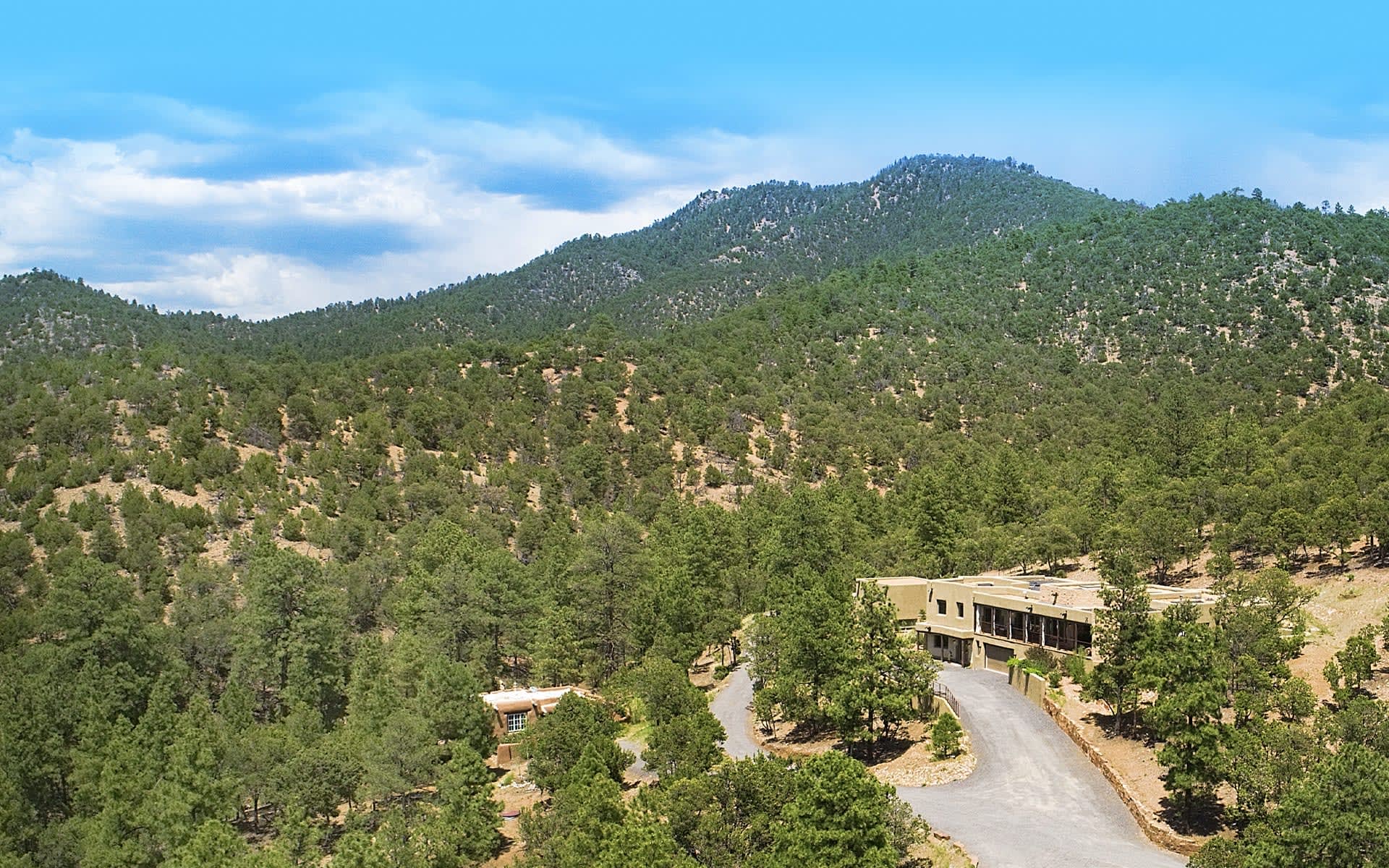 A luxury lifestyle in the cradle of nature? That sums up the Wilderness Gate experience for homebuyers fortunate enough to live here. Lots are enormous (most five acres or more), homes are grand, and the views otherworldly. Owners are allowed to stable horses, and plenty of equestrian trails make it worth the enterprise. Both the Santa Fe Plaza and Santa Fe Ski Basin are similarly close, just 10 minutes in either direction. Read more.
Historical Roots and a Flair for the Creative
With a lineage stretching back nearly 400 years, it's little surprise that Santa Fe appeals to those with an appreciation for history. In that time, Mexican, Native American, and Spanish influences have all made their mark on Santa Fe. The art, the food, the architecture, and, yes, the lifestyle all bear the strokes of the city's colorful, deep-rooted history.

Within Santa Fe, five neighborhoods, in particular, are worth considering for their heritage and historical importance.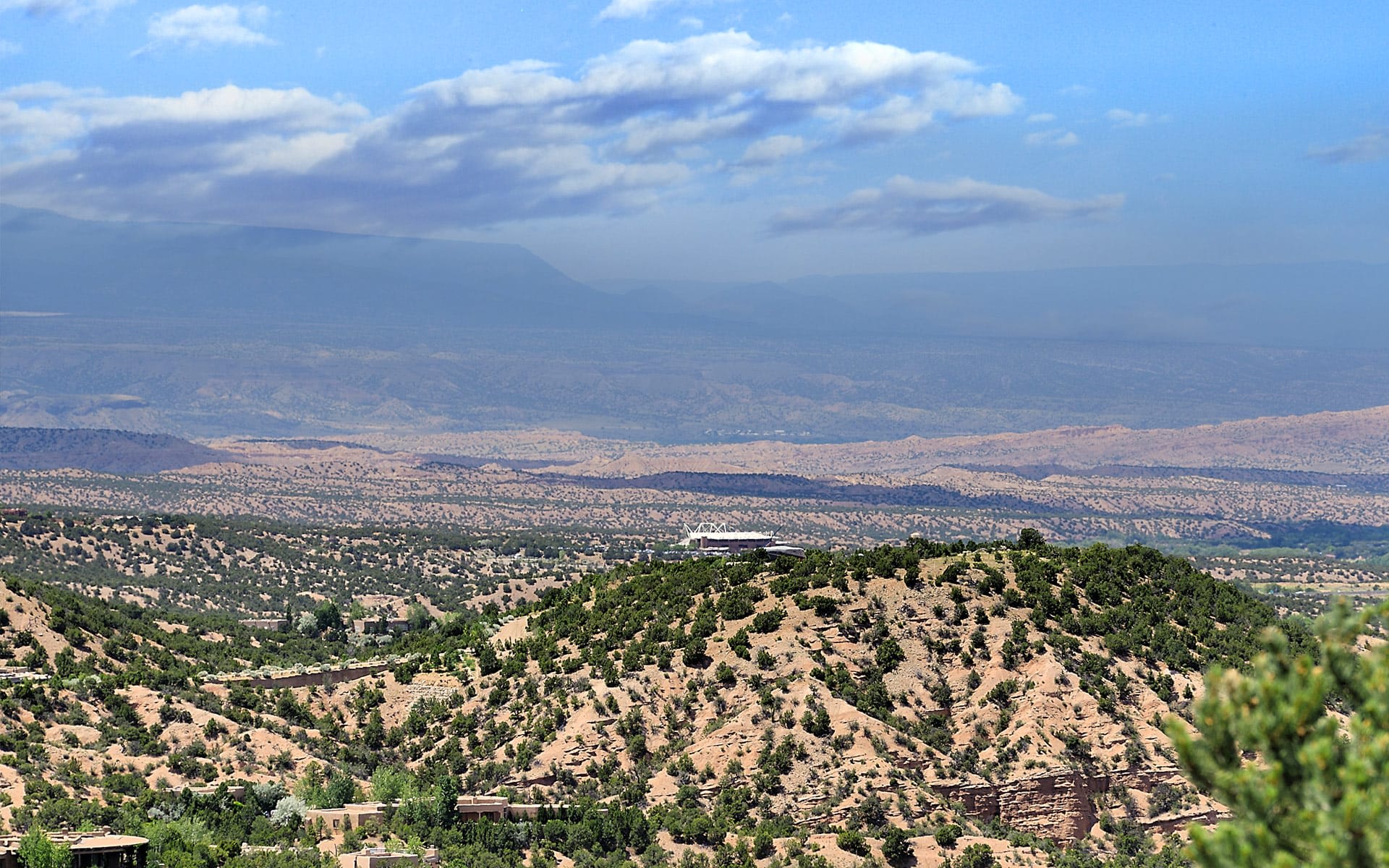 Named for Eleanor Brownell and Alice Howland, the neighborhood's first two out-of-town homeowners, Brownell Howland dates back to the early 1900s. From its humble beginnings – the pair purchased and formally established the fledgling Shipley School – the district grew into a quaint collection of homes. Tree-lined streets and winding roads give the sense that little time has passed in this delightful corner of Santa Fe. Read more.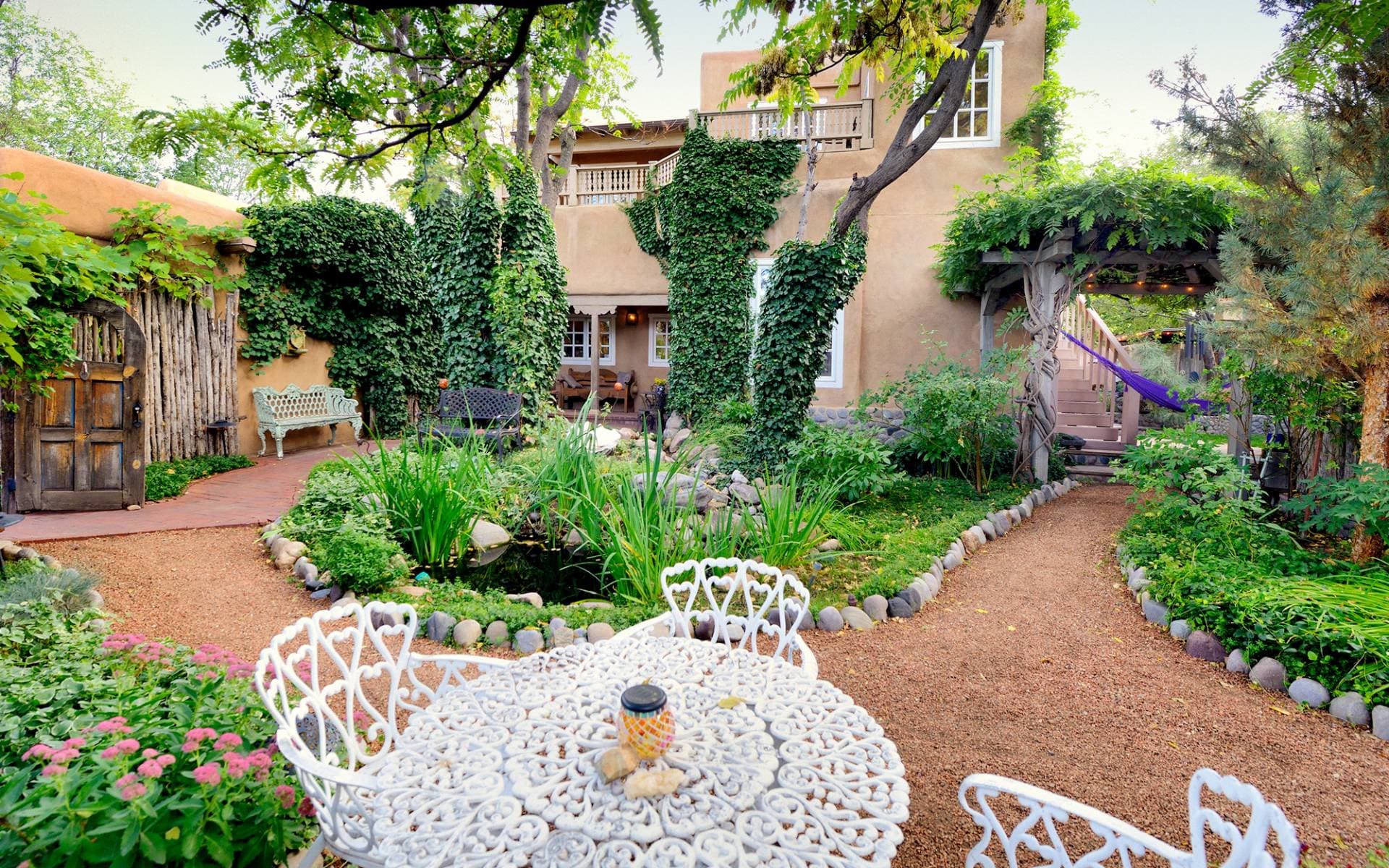 A handful of the Canyon Road neighborhood homes date back to the 1600s and 1700s and give the area a decidedly Old World feel. Pueblo-style homes and verdant gardens heighten the character. While natural views of the surrounding landscape are few and far between, until you reach Upper Canyon Road, its convenience is unmatched. A vast array of galleries, shops, and restaurants are within walking distance. Read more.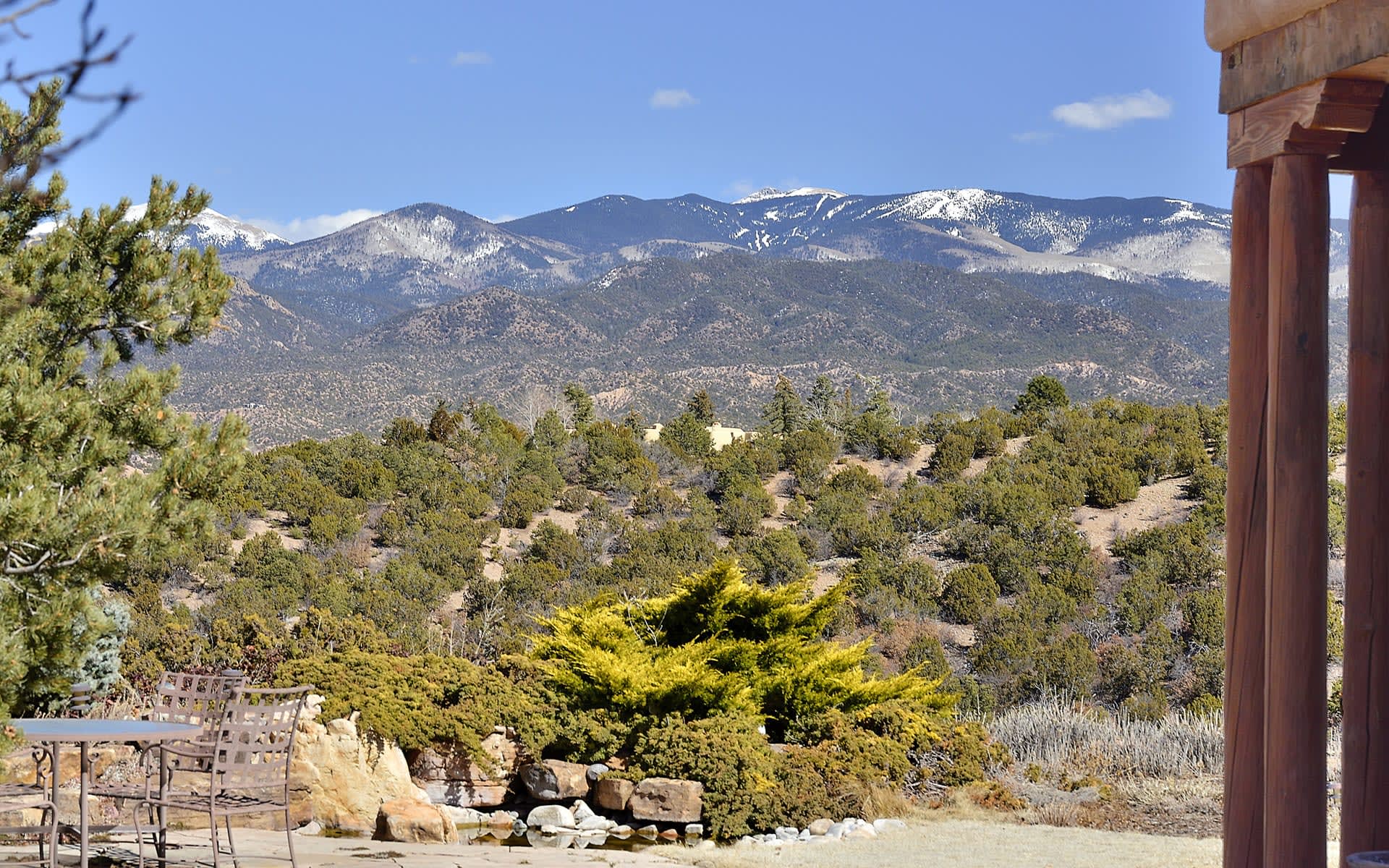 While it doesn't carry the historical lineage of other Santa Fe neighborhoods, Cases de San Juan's location adjacent to the renowned Santa Fe Opera House gives it a certain cultural cachet that other communities lack. Additional selling points include a 24/7 staffed gate and luxury-laden estate and condominium homes. Read more.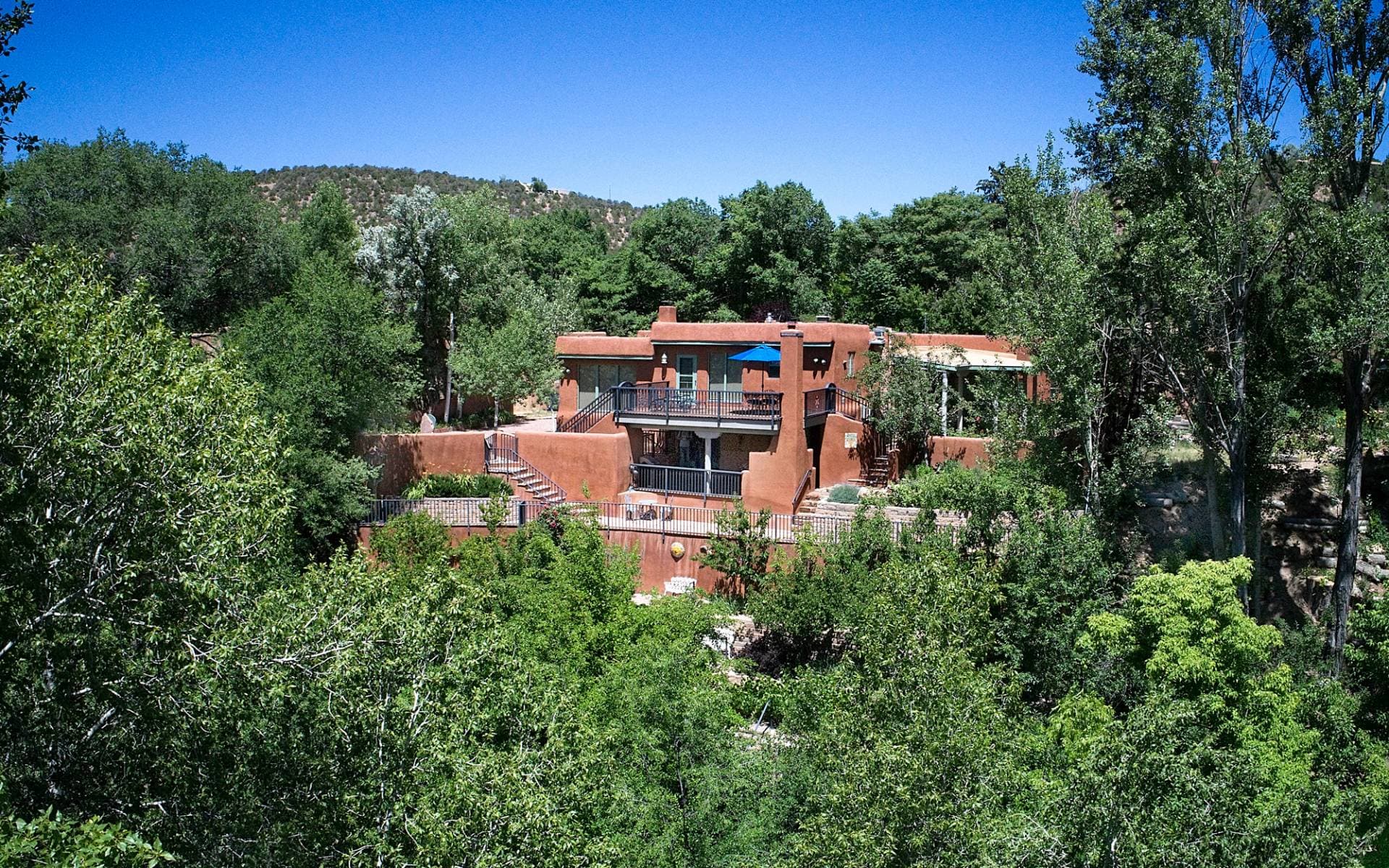 Considering it's right there in the name, Historic Eastside is one of Santa Fe's oldest neighborhoods. Featuring a rich tapestry of traditional centuries-old homes, high adobe walls, trees, and vibrant gardens, the pleasantly atmospheric Eastside recalls the historical roots of Santa Fe. Extraordinary walkability and cultural proximity means direct access to the city and all of its treasures. Read more.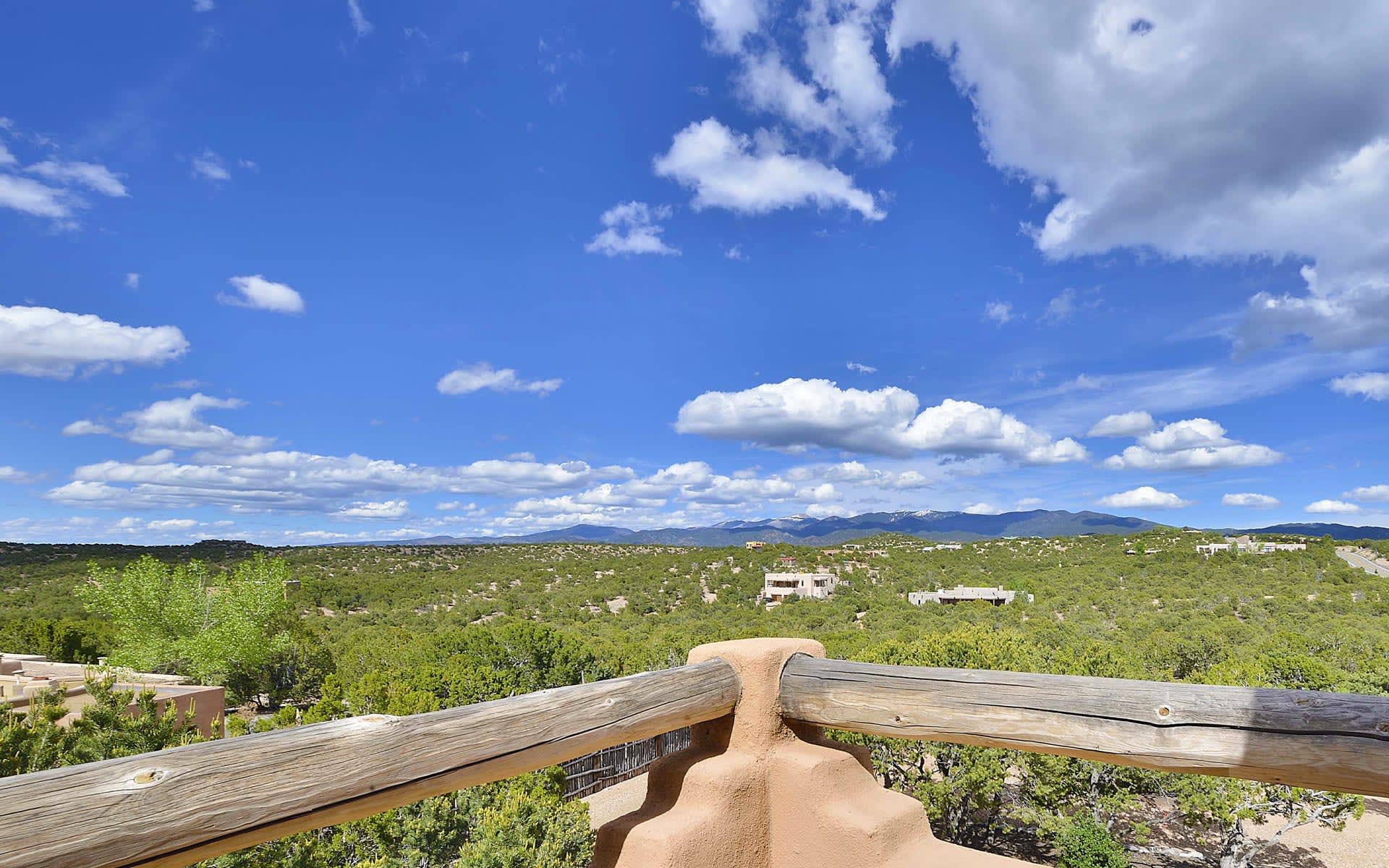 Established in the 1940s as a "painters colony," Tano Road's 154 acres are genuinely unique among Santa Fe neighborhoods. Many homes here hew closely to their artistic roots, featuring art studios, gardens, guest cottages, and wine cellars. Forty-six of the area's acres are set aside as an open space preserve. Read more.
Privacy and Seclusion
Perhaps one of the greatest perks of purchasing high-end luxury real estate is the opportunity for exclusivity – an enchanting landscape and little else to surround your private oasis.

Santa Fe itself offers a happy medium; the city is remote but not unreachable. Secluded, but not isolated. But for those longing for even more solitude, the city has several outstanding options for ultimate tranquility.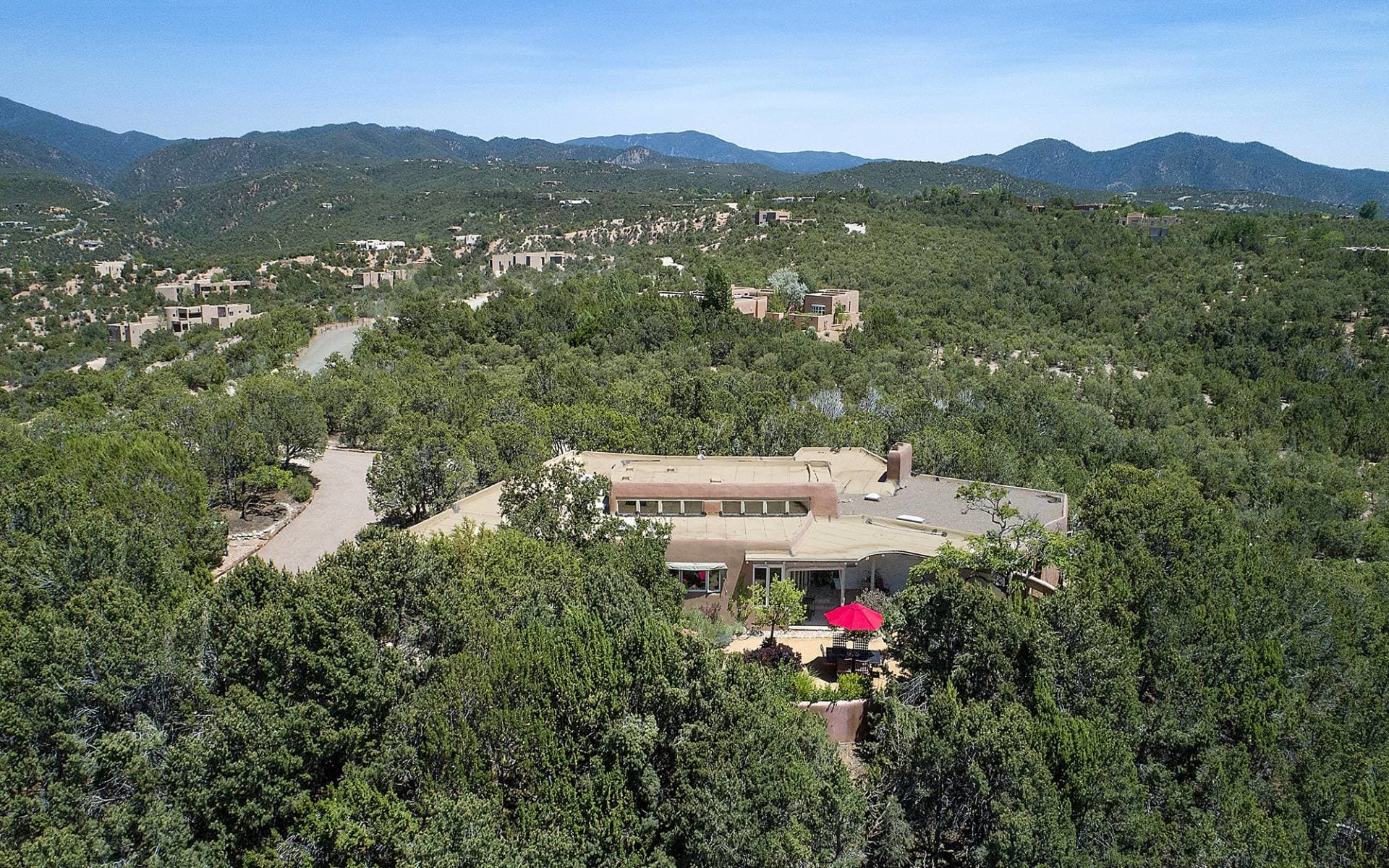 Two miles from the heart of downtown Santa Fe is Circle Drive, one of the region's most private and exclusive enclaves. While the neighborhood itself is close to the best Santa Fe has to offer – galleries, shops, restaurants, a bevy of outdoor pursuits – only 11 estate homes within the community boundaries ensure near-total seclusion. Read more.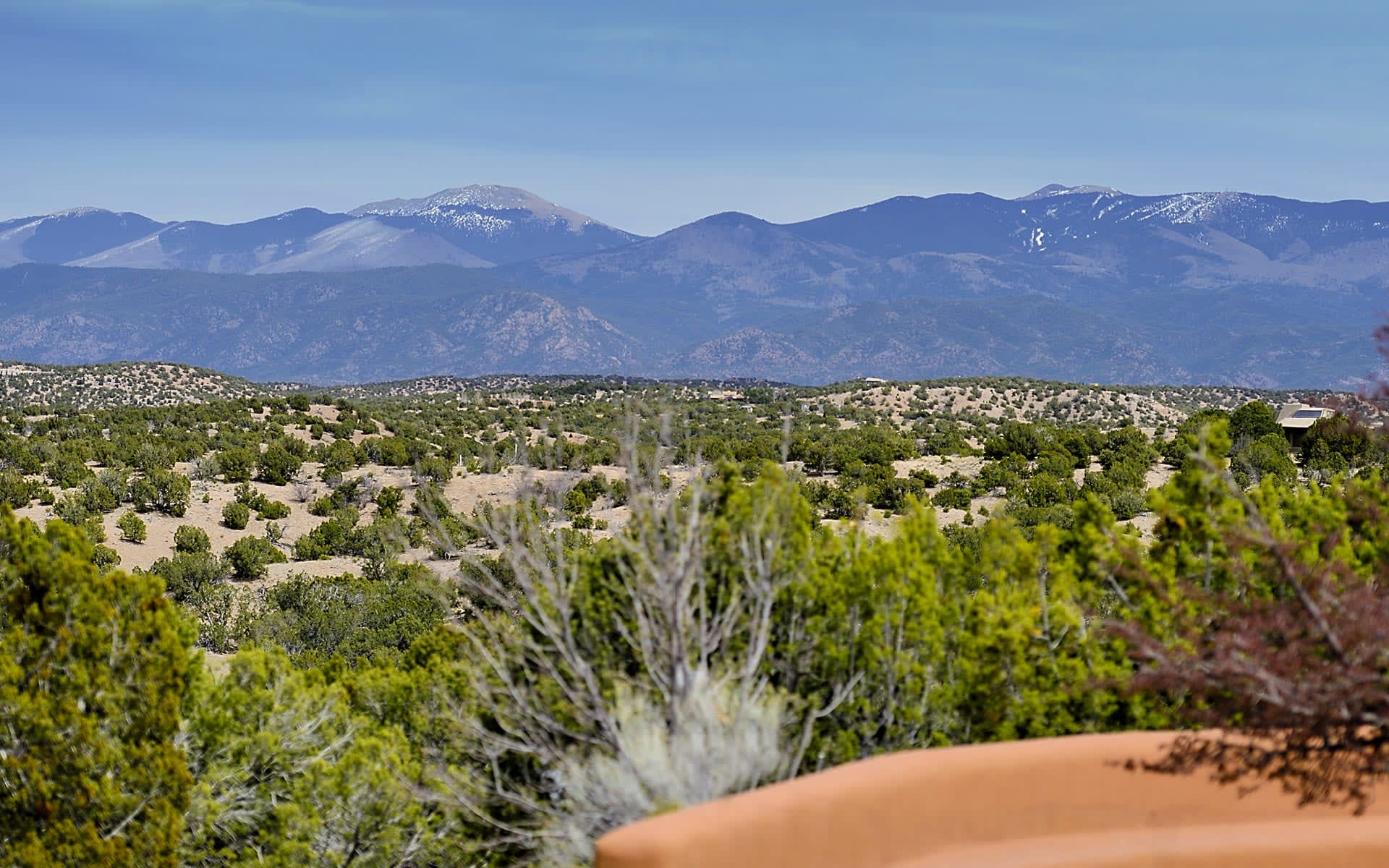 For those endeavoring a rural lifestyle (think well-groomed gravel and dirt roads) less than 20 minutes from Santa Fe, La Tierra Nueva is the beginning and end of your search. Views, privacy, and immaculate estate living is the rule for every homesite. Read more.
With lots averaging nearly two acres, Monte Sereno is a popular option for those wanting to build their dream estate. Lot layout ensures stunning views and unparalleled privacy in equal measure. Just several minutes to town and mere moments from the Santa Fe Opera, Monte Sereno offers a graceful mix of location, sophistication, and privacy. Read more.
Tesuque could fit anywhere on our list. It has a traditional, amenity-rich aesthetic with access to many outdoor activities and a heritage that dates back to the 1920s. It's the epitome of rural, old-world charm but with an "arm's length" setting outside the city. An ideal landing spot for those who value an exclusive hideaway residence above all else. Read more.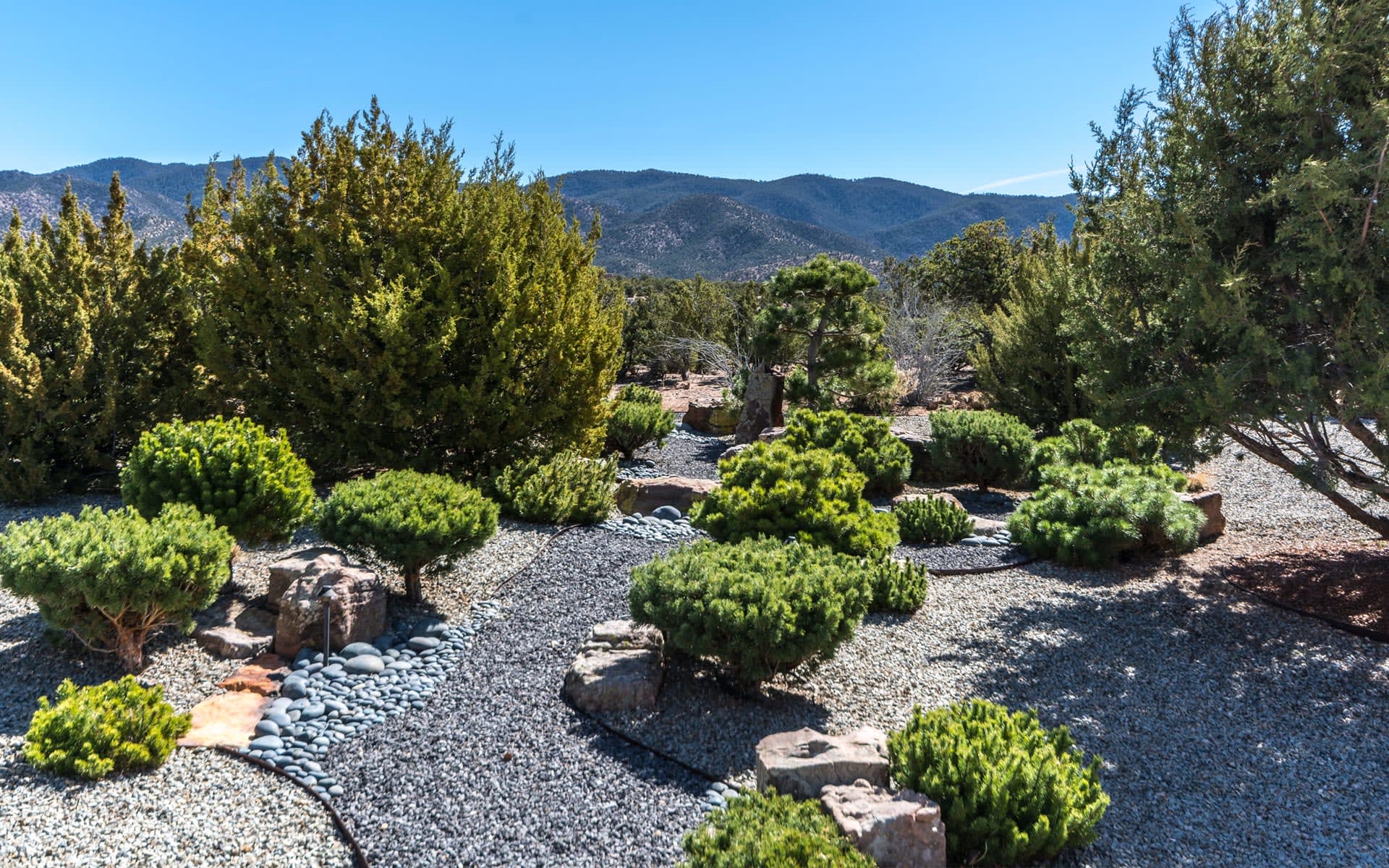 Boasting some of Santa Fe's grandest homesites and looking down on a valley, Vista Redonda lives up to its name. Ideal for those who want to live above it all, homesites average five acres, with most providing full panoramic views of the surrounding area. With 80 homes spread across 700 acres, privacy and exclusivity are not an issue for those seeking it. Read more.

Ready to find your perfect Santa Fe home in your new Santa Fe neighborhood? Whether it's homes for sale in Bishop's Lodge Hills or Historic Eastside real estate, allow Santa Fe's number one real estate professional to be your guide to The City Different. Contact Darlene Streit today at 505.920.8001 or at [email protected] to start your search.