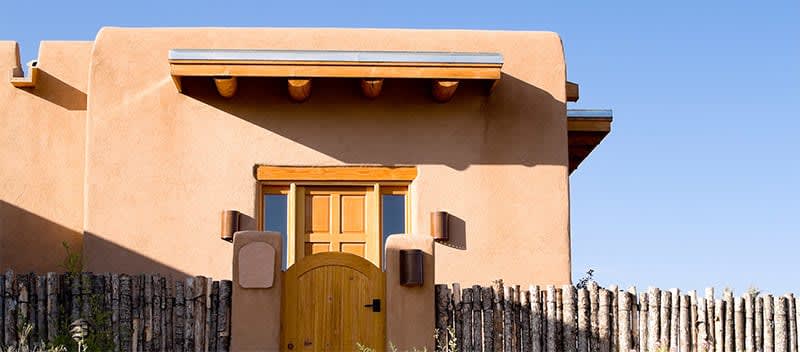 When visiting Santa Fe, you will see the many low-slung, earth-colored buildings that represent the Santa Fe architectural style. In 1957, the city of Santa Fe, already the center of Pueblo Revival architecture, passed an ordinance requiring buildings in the historical district in the city's center, to use the "Old Santa Fe Style." This law stands today.
The Pueblo Revival style is influenced by the Indian Pueblo, Spanish Colonial, and Mission designs. These architectural styles represent the rich history of Santa Fe.
Roofs
Although you will see some red tile or terra cotta roofs, most roof construction in the Pueblo Revival style are flat. This was seen especially in the influence of Indian Pueblo architecture. Vigas, thick wooden beams that carry the weight of the roof to load-bearing exterior walls, can be seen protruding from under the roofline. To prevent damage, these flat roofs must be designed properly to drain rainwater.
Natural Finishes
Because of the materials used, a key feature of Pueblo Revival is irregular, natural-looking finishes. Adobe was the historical construction material of choice. Made of sand, clay, straw, and water, adobe structures suited the dry climate of New Mexico. The thick walls store heat during hot days, then radiate the warmth back into the building during cool nights. The modern Pueblo Revival style often uses brick and concrete covered with stucco to mimic the adobe method. Walls and roofs edges are rounded to add to the adobe-like look.
Decoration
You will find little decoration on Pueblo Revival style buildings. Decorative carved corbels made from wood or clay, simple tiles around a front door or fireplace, and arched doorways are the extent of the flourishes found on more elaborate structures.
Another decorative element found throughout Santa Fe is the blue door. The origin of the blue door is disputed. Whether it prevents evil spirits from entering a home or is a remembrance of the reported appearance of the Lady of Guadalupe in the 1500s, it is now a ubiquitous part of a Santa Fe welcome.
Outdoor Space
The outdoor spaces that are characteristic of Pueblo Revival architecture take advantage of Santa Fe's yearly average of 300 sunny days. You can find roof decks, patios, outdoor courtyards, and arcades. All provide additional living space for residential constructions. Theses outdoor rooms can include fireplaces and water features to make the space more pleasing.
The city of Santa Fe is a stronghold of Pueblo Revival architecture. It is part of the city's unique regional identity that combines components from its past and has carried it to the present.