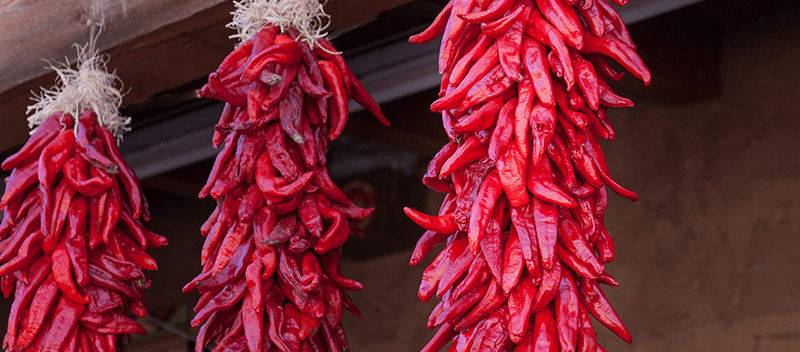 When it comes to Santa Fe Style, a popular Southwest decor is the chile ristra. It's not unusual to see them hanging on patios or fences throughout Santa Fe.
What Is A Chile Ristra?
A chile ristra is a hanging arrangement of chile peppers hung up to dry for future consumption. Made of either Hatch chiles or Chiles d'árbol, this iconic decoration can be found throughout Santa Fe and New Mexico.


Bounteous bunches of dried red chile peppers know as chile ristras evoke the tradition, design, and culinary roots of Santa Fe.
Chile Pepper Ristras Tradition
Farmers harvest chile peppers in August, ushering in the festival season of the Hatch chile.


To store the chiles over the winter, they must be dried. Initially, residents would place them on roofs or in their yards to dehydrate them for storage. But sanitary concerns from birds and the ground forced citizens to look for other ways to keep the chiles clean. This resulted in the current method of stringing them into ristras.
Chile Pepper Ristras As Decor
Hanging near doorways, over windows, in arches, and on fences all over Santa Fe, chile ristras are thought to bring health and good luck to residents. Many people also keep them in kitchens as a spark of color as well as a handy cooking ingredient.


As the ristras dry, their color will darken to a dull red. Some people purchase ristras that have been lacquered to protect them from humidity. Lacquered ristras can no longer be used in food, but it does maintain the brighter red color for longer.


In the fall you can find a plethora of chile ristras for sale at farmer's markets, shops, festivals, and roadside stands. The colors pop nicely against an adobe backdrop.
Chile Pepper Ristras In Culinary
Fresh and dried Hatch chiles are staples of Santa Fe cuisine. The fresh green chiles can be found stuffed, stewed, and chopped, as well as in or on burritos, tamales, and enchiladas. The dried red chile pods from ristras can be powered for a homemade chile powder, or they can be roasted and soaked and then made into a salsa, soup, or stew.


If you are looking to add a bit of Santa Fe to your home, a chile ristra is an easy as well as a tasty way to do so.
Making A Chile Ristra
This video demonstrates how to make chile ristras:


In this video you can see chile ristras being made:


This video is instruction on making the "perfect" chile ristras:


Chile History
This video provides insight into some of the history of chile in New Mexico:


If you're looking for a home in Santa Fe to hang your own chile ristras, let Darlene Streit put her resources to work for you: Darlene Streit –
(505) 920-8001
or
[email protected]
.