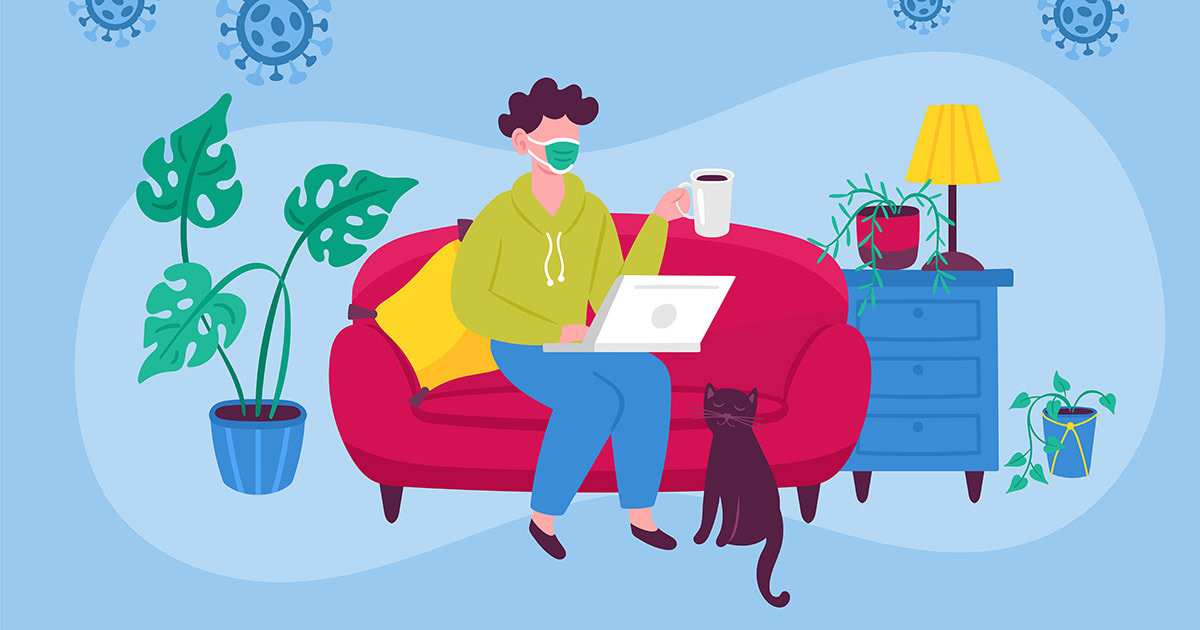 At 8 am on March 24, 2020, New Mexico's Secretary of Health, Kathy Kunkel, issued an order to close all non-essential businesses, due to the COVID-19 Pandemic, requiring Santa Fe workers in non-essential businesses to work from home.
Within the order, several businesses were classified as "essential" in New Mexico. On the list was, "real estate services including brokers, title companies, and related services."
Santa Fe Real Estate During Covid-19
You may be wondering how real estate works in this current environment. Hopefully, this FAQ about how we are operating during the COVID-29 pandemic will help:
How Are You Personally Responding To The COVID-19 Pandemic?
Even though we are still "open" all of our staff are working from home, with one person rotating in the office. Cats, dogs, and family members are now our coffee break companions. As you probably know, Santa Fe is a very supportive community and, as such, we've directed some of our energy towards providing everyone with useful resources to help during this challenging time.
For example:
On March 13, more than 10 days before work-from-home orders were issued, we published an in-depth article titled, "Preparing Yourself and Your Santa Fe Home for Coronavirus COVID-19." That article is updated on a regular basis.


After the work-from-home order was issued we started putting together an in-depth resource for people staying at home. Called "Santa Fe COVID-19 Stay-At-Home Resources," this page is a directory on how to order food online, how to support local Santa Fe businesses, how to access official COVID-19 information (Santa Fe, New Mexico, and National), how to improve your health and well-being, and how to access free online arts and culture performances and videos. There's a list of local delivery services, places offering take-out and delivery, and more. This is a vital and evolving resource and we encourage people to send updates to us via

[email protected]

Why Is Real Estate An Essential Business?
Not only has New Mexico deemed real estate as an essential business, but so has the Department of Homeland Security / Cybersecurity and Infrastructure Security Agency (CISA).

In most states, real estate accounts for more than 14% of the gross state product. A complete shutdown would have a massive additional economic impact. It is the largest segment of the U.S. economy.

In addition, during crisis situations home and rental needs are shifting quickly, making it vital that real estate is available to help ensure people have a roof over their heads.

Being an essential business during times like these also means following strict safety guidelines and we have worked hard to make sure the way we conduct business is safe not only for us but also (and more importantly) for you.
Are You Open?
Yes. While nothing is business as usual right now, we understand that many people have housing and real estate needs. We are here to help you in every way we can.
So I Can Buy Or Sell A Home During This Time?
Absolutely. The process will just be more "digital" in nature.
How Does Your Real Estate Process Differ From Before?
Virtual home tours, digital document signing, remote video walk-throughs, and extensive online marketing (which we've always been strong at) are helping us serve our clients with little or no in-person contact necessary. Our latest addition is to offer drive-through closings as well.
What Is A Remote Video Walk-Through?
It's where we connect with you via video and walk you through the home. This allows you to ask questions and request to see things almost as if you were there in person!
What Is A Drive-Through Closing?
It's a safe way for you to sign closing papers without getting out of your car.
Is Now A Good Time To Buy A Home?
With interest rates at historic lows, many people are finding now to be a good time to buy a home.
I Have More Questions Or Real Estate Needs. What's The Best Way To Contact You?
Feel free to call or text me (Darlene Streit) directly at 505.920.8001 or email

[email protected]

.
We all have our part to play to help each other get through. This is our small part, to safely facilitate business for those of you who have continued real estate needs. Please contact me with any questions, and stay healthy and hopeful. We're here for you, so do not hesitate to reach out.