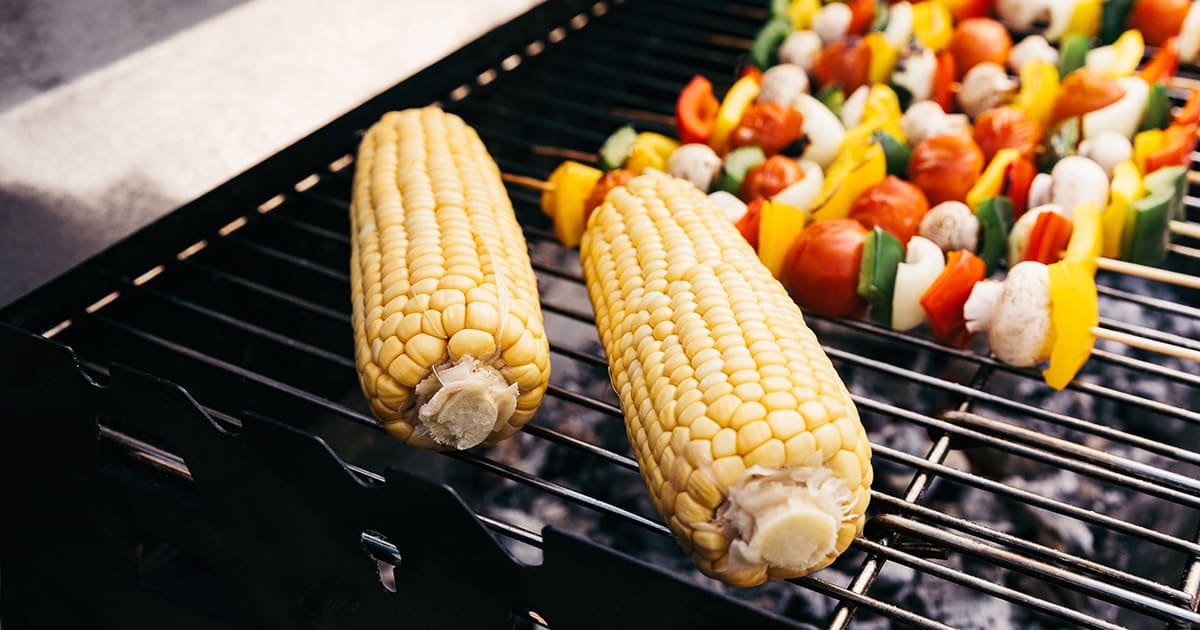 "People who love to eat are always the best people!" ~ Julia Childs
Santa Fe is known for its arts, culture, history, style, and food. Let's have some fun, fire up the grill, and create some savory and festive delights. We'll start a delicious grilled corn salad recipe.
Grilled Corn Salad Recipe
(Serves up to 4 people):
4 ears of corn – do not shuck if you are going to grill the corn (or 2 1/2 cups frozen corn)
1 large red bell pepper
1 5-inch long zucchini, sliced in half lengthwise
1/2 cup chopped red onion
1/2 cup chopped cilantro
1 Serrano chili pepper – seeded and minced (optional)
1 teaspoon ground cumin (best if you toast whole cumin seeds then grind)
1/4 cup crumbly salty cheese such as feta or cotija (optional)
2 Tbsp olive oil
2 Tbsp cider vinegar or lime juice
Salt and freshly ground pepper to taste
Preparation of Grilled Corn Salad:
Prepare your grill for high, direct heat. Oil the grates. Rub a little olive oil over the bell pepper. Place the corn (in their husks) and red bell pepper directly on the grill grates. Cover the grill. Turn corn occasionally, so that every part of the husk is blackened. Turn the red bell pepper occasionally until the skin has blistered up all around it. This should take 15 to 20 minutes. For the last 5 minutes or so, rub olive oil over the zucchini pieces and place the zucchini pieces directly on the grill gate, cut side down. Turn them over after a few minutes when they have some nice grill marks on them. Let them cook for just a minute.

Let the corn cool down for a few minutes and pull back the husks. Stand the corn husks vertically, tip facing down, in a large shallow bowl or baking dish. Use a sharp knife to make long, downward strokes, removing the kernels from the cob, as you work your way around the cob. Once the bell pepper has cooled a bid, remove the outer peel. Cut open the pepper; remove the seeds and stem. Chop the bell pepper into small pieces. Slice the slightly browned zucchini again lengthwise and chop into small pieces.
No Grill Corn Salad Version:
Alternatively, you can prepare the vegetables on the stovetop. Shuck the corn and use a knife to remove the kernels from the cobs. If you don't have fresh corn, you can easily use frozen. Coat the bottom of a large, sturdy relatively stick-free (can use cast iron) pan with a little olive oil. Heat the pan to high. Spread out the corn kernels on the pan. If frozen, they will defrost almost immediately. Don't stir them that much, just let them cook, stirring occasionally, until they start to toast. When they get a little browned, remove them from the pan to a bowl. Lay the zucchini pieces on the pan and brown both sides; do not overcook, remove from pan. The bell pepper does not need to be cooked; it can just be seeded and chopped fine.

Place grilled or toasted corn kernels, chopped bell pepper, chopped zucchini, red onion, cilantro, and Serrano (if using) into a large bowl. Add the cumin, olive oil, vinegar or lime juice, and crumbly cheese (if using). Mix gently. Salt and pepper to taste. Serve cold or at room temperature.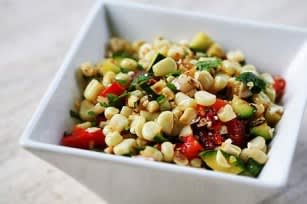 Now comes the best part – eating and serving it! Enjoy!