Santa Fe is known for its diversity of delicious and spicy food, along with its take on American favorites. Sure you can go to any Burger King or McDonald's and order a cheeseburger at a discount, but for a real cheeseburger, you need to consume an authentic Santa Fe chile cheeseburger.
When it comes to green chile cheeseburgers, Santa Fe is evolving thanks in part to an annual competition that was founded by
Tourism Santa Fe
and the
Santa Fe Farmers Market Institute.
Launched in 2013, the Green Chile Cheeseburger Smackdown was originally about "finding the best green chile cheeseburger in Santa Fe." However, it has since evolved into finding the best green chile cheeseburger in the state of New Mexico.
Green Chile Cheeseburger Smackdown – How it Works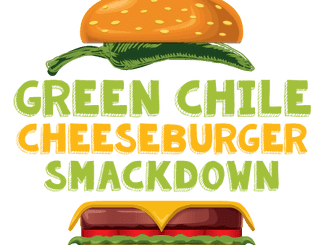 Here's how the competition works:


Restaurants sign up to be a part of the competition.
A panel of judges visit each restaurant to taste each green chile cheeseburger entry then determine which seven creations will face off in the one-day "smackdown" event.
The public is invited to the smackdown event (entry fee required) held in Santa Fe. Each attendee casts a vote for the green chile cheeseburger he/she likes the most.
There are *two prizes awarded – the judges' choice (CHOMP Winner) and the public choice (People's Choice Winner).
* In 2019 a new "secret judge" category winner was added.

There is a lot of tough competition for the coveted CHOMP and People's Choice prizes. The winner gets bragging rights (and tourist interest) for having the best green chile cheeseburger in the state.

Take a look at this promotional video from 2018.


And the Winner is…
So what does it take to win the competition? Check out this video of the winning People's Choice burger from 2016 (Chef Milton Villarrubia – Second Street Brewery in Santa Fe, New Mexico):


You can get more information on the Green Chile Cheeseburger Smackdown on the official Website.