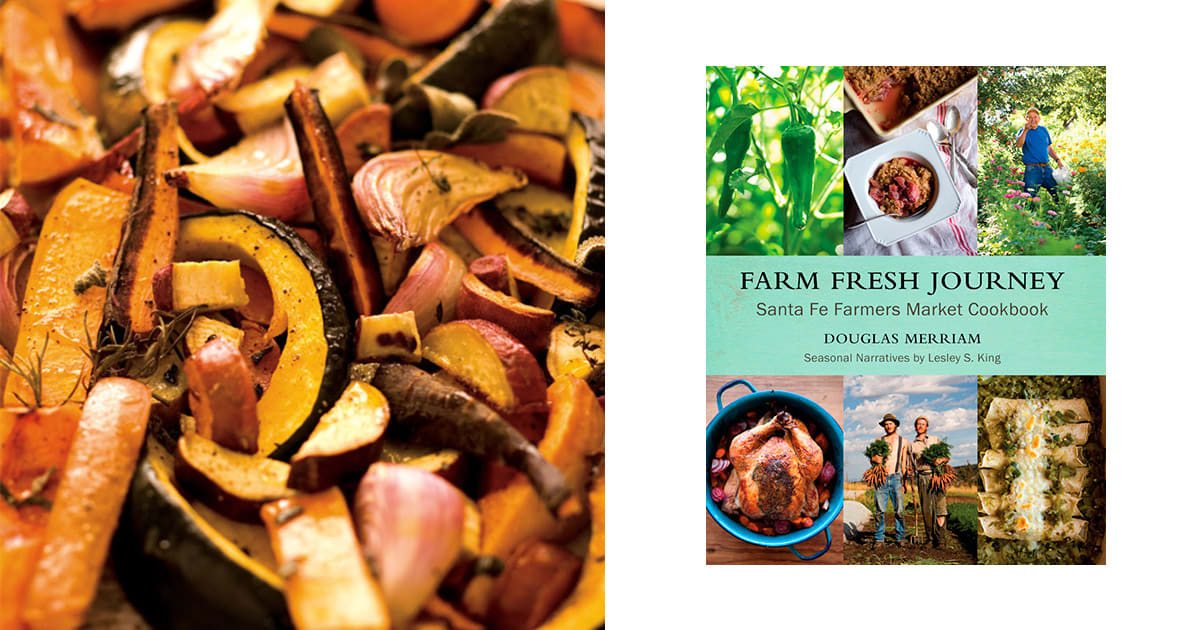 As the weather gets colder and we spend more time in our cozy abodes, we instinctively crave the comforting aromas and flavors of a hearty meal. Fall/Winter is a great time to enjoy root veggies and to explore various roasting recipes – and what better inspiration to draw from than our local farmers market?
Santa Fe Farmers Market: Roasted Root Vegetables with Herbed Dressing
Makes 4 to 6 servings
A winter staple that's quick and easy and tastes so good. Use whatever assortment of root vegetables you'd like.
2 red onions, halved & quartered
2 carrots, cut in half then cut lengthwise
2 rutabaga, cut in half then cut lengthwise
2 red potatoes, halved & quartered 2 sweet potatoes, cut in half then cut lengthwise
1 acorn squash, halved then sliced
1 tablespoon olive oil
2 sprigs each of rosemary, thyme, and sage
Salt and pepper to taste
For the Herbed Dressing
2 tablespoons olive oil

1 tablespoon balsamic vinegar

1 sprig each of fresh rosemary, thyme, and sage, finely chopped

Salt and pepper to taste
Preheat oven to 400°F. Place all cut vegetables in a large bowl and drizzle with oil, mix to coat.
Spread out the vegetables on two large cookie sheets lined with parchment paper, sprinkle with sprigs of herbs.
Bake for 30 minutes, then flip the vegetables and bake another 20 minutes, being careful that the thinner vegetables don't burn before the thicker vegetables are cooked through. When a fork goes easily through the vegetables they're done.
While the vegetables are roasting put all the dressing ingredients in a bowl and whisk together.
Place the vegetables back in the large bowl, add salt and pepper to taste, and coat with the dressing.
For more regionally-inspired recipes and to get to know our local farmers through stories and pictures, visit FarmFreshJourney.com to purchase the cookbook. A percentage of each sale goes to the Santa Fe Farmers Market to support their programs and efforts to help our hard-working Northern New Mexico farmers.