Santa Fe has won numerous awards for being a top city to both travel and live. The art, culture, history, entertainment, weather, lifestyle, and location all play a role in what people love about Santa Fe.


Travel + Leisure Magazine Readers Name Santa Fe a Top City
Since 2016, Santa Fe has consistently ranked in the top 5 of Travel + Leisure Magazine's annual "Top Cities in the US" survey. In 2020 it was #3 overall.


"We're honored to be recognized year after year by the travel-savvy readers of Travel + Leisure, and feel that it reflects Santa Fe's commitment to provide a truly authentic experience for people interested in culture, history, the arts, cuisine, one-of-a-kind shopping, the outdoors, rejuvenation and wellness," said TOURISM Santa Fe Executive Director Randy Randall. "The Santa Fe community works incredibly hard every day to make this a reality, and we thank the thousands of readers who voted."
The awards are based on a survey of the magazine's 300,000 readers who represent people who love to travel.


AFAR Magazine – Santa Fe Third Best Small City
In 2020, AFAR Magazine named Santa Fe, New Mexico as the third best small city in America. Here's a small part of what they said:


"Nicknamed 'The City Different' for its defining Spanish pueblo revival style, Santa Fe has a rich history that dates back to its founding in 1610. Tucked into the base of the southern Rocky Mountains at an elevation of 7,000 feet, the more than 400-year-old city is the oldest state capital in the country, and the highest state capital as well. What's more: According to Resonance's 2020 study, New Mexico's capital is also the most Instagrammed small city in the country.



It's not hard to see why: With the dramatic Sangre de Cristo Mountains as a backdrop, this charming high desert destination displays its Spanish, Native American, and Mexican influences, with traditional pueblo architecture, cultural museums, renowned Southwestern dining, and more than 250 artisan galleries (which landed Sante Fe in the number one Shopping subcategory)…"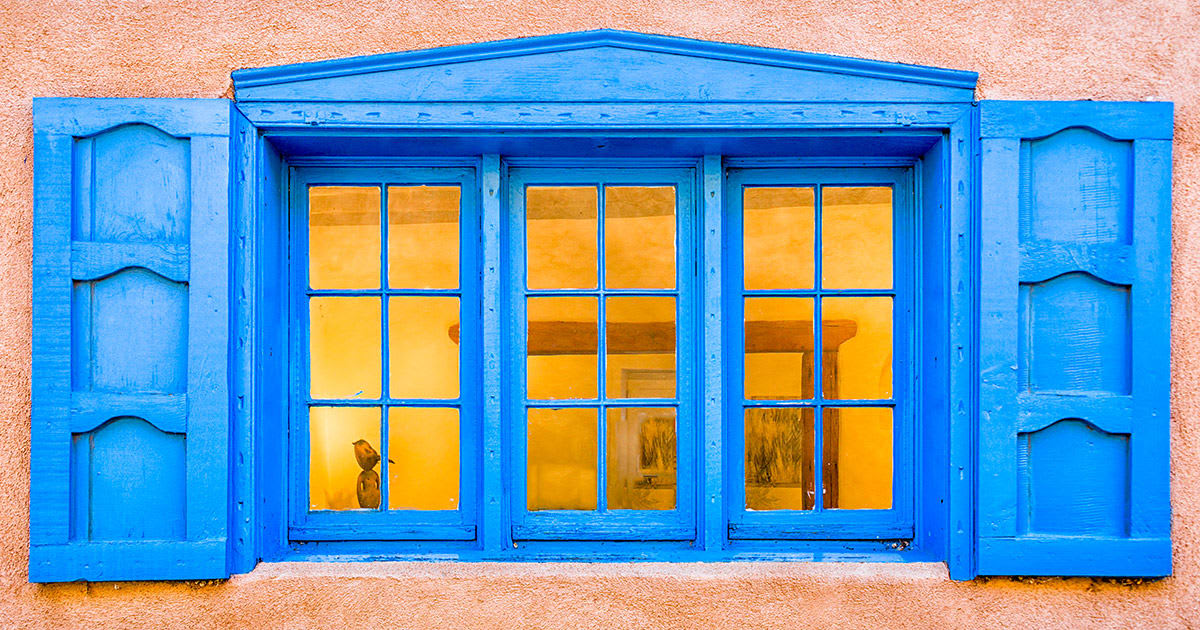 A window peering into a Santa Fe art gallery. The plethora of art galleries is just one reason Santa Fe is a great place to live or visit.


Outside Magazine: Santa Fe One of the Best Towns in America
In 2017, Outside magazine (in circulation for more than 40 years) published an article on what were the Best Towns in America. It wasn't really a surprise to see Santa Fe on this list. Here's a quote from the article:


"For a town designed to blend in—a city ordinance requires that buildings look like earthen adobe structures—Santa Fe sure stands out. It's hard to be inconspicuous when you're a 7,000-foot-high state capital with 300 days of sunshine, an adjacent 350-square-mile wilderness area, and five French bakeries. The air is clean, the sky is large, and the outdoor recreation is endless."
Other Santa Fe City Awards and Recognition
There are over 100 awards like those above that help demonstrate why Santa Fe is one of the best cities in the U.S.


Why Are People Drawn to Santa Fe?
This New York Times video does a great job of showing why people are drawn to Santa Fe:


36 Hours in Santa Fe, New Mexico
If you are looking to move to Santa Fe, New Mexico, Darlene Streit can help you find your new home. Call or email Darlene: 505.920.8001 /
[email protected]