Regarded as Santa Fe's premier gated golf community, the stunning scenery of Las Campanas is an incredible place to call home. This fitness and wellness-focused community is the perfect place for people looking to live a healthy lifestyle, strike up close relationships with their neighbors, and make new friends. Read on to learn more about what makes Las Campanas such a truly special place to live.
A Thoughtfully Planned Community
Las Campanas stretches across 4,700 acres, which covers sun-drenched and tree-lined open space set against the breathtaking backdrop of the Jemez Mountains. Established in 1992, Las Campanas is known as Santa Fe's premier luxury gated and golfing community. In the decades since, the community has only continued to expand and prosper.

Every aspect of Las Campanas was designed with the residents in mind. The community is gated and secure, allowing for optimal resident privacy. Living here, there isn't the concern that just anyone is able to drive down your street or walk up to your front door.

Additionally, the architectural styles in Las Campanas are refreshingly unique. When people think of a planned community, they often think of rows of nearly identical homes. At Las Campanas, homes are built in various interesting and attractive styles, so you won't feel like your house looks just like your neighbor's. Architectural design here features homes in the traditional Santa Fe style, contemporary, and 'soft contemporary' a pleasing mix of the two. Homes have been carefully constructed in select, optimal locations throughout Las Campanas' acreage, ensuring that residents enjoy the most privacy as possible within view of immaculate high desert and mountain vistas.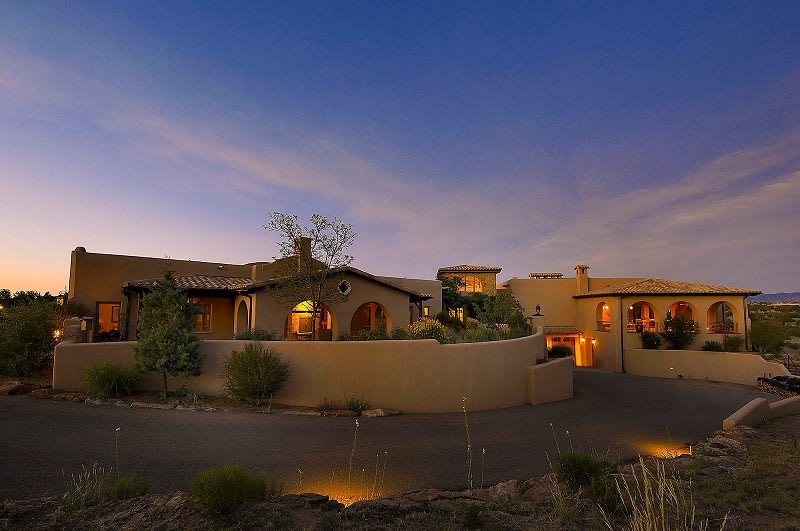 An Impressive Number of Distinct Neighborhoods
One of the most unique features of Las Campanas is that it comprises 17 distinct neighborhoods, each one carefully crafted with consideration for privacy and spaciousness. There's no worry about living too close to your neighbors or having your stunning mountain view obstructed by a larger house. Lot sizes range from one-third of an acre to five acres, so you'll be able to find a home that has the space to meet your needs. The Las Campanas neighborhoods include:
Tesoro Enclave: A custom home neighborhood offering 37 incredible estate homes with views of the Sangre de Cristo, Jemez, Ortiz, and Sandia Mountain views.
Black Mesa: A newer neighborhood with estate homesites.
The Estancias: Beautiful 360 views with access to 68,000 acres of land protected by the Bureau of Land Management (BLM).
Park Estates: Private and secluded neighborhood with golf course or mountain views.
Las Terrazas: Great views with less upkeep for the properties. Close proximity to the Club and various amenities.
The Pueblos: A smaller neighborhood with only 37 homesites, all with golf course and mountain views.
Club Estates: 35 distinguished homes and sites in a picturesque setting and located close to Club amenities. One of the most sought-after neighborhoods in Las Campas.
Silver Mesa: One of the most elegant and exclusive neighborhoods, with twelve homesites.
Los Santeros: For the golf lover, this neighborhood offers sites located right along the course.
Valverde: Located next to the Sunset Golf Course, and created in partnership with Arete Homes of Santa Fe, one of the area's leading home builders.
Ranch Estates: Perfect for horse lovers, the 27 sites in this neighborhood allow you to board your horse in your backyard.
There are also several more residential lots, referred to as the Estates, and two small planned residential lots that have not yet been developed.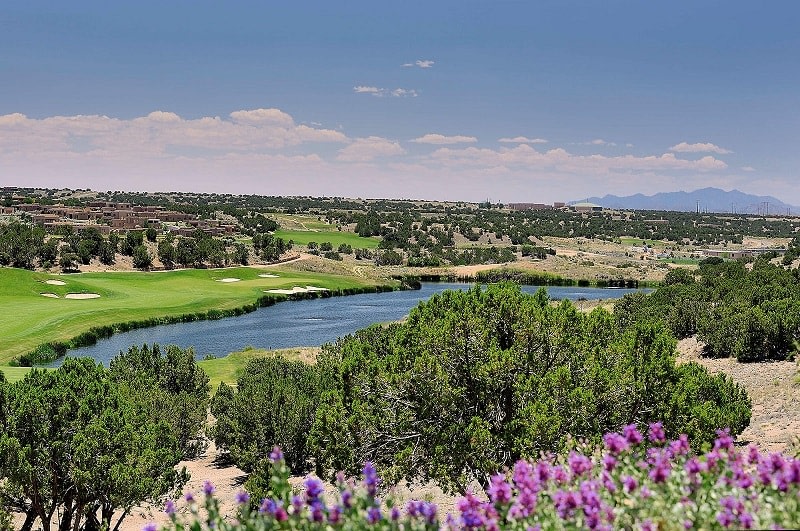 A Lavish Lifestyle : The Club
Las Campanas residents love The Club's numerous opulent amenities. Since 2014, this elite club has been recognized as a Platinum Club of America. You don't need to be a resident to join, but membership is available by invitation only.

The Hacienda Clubhouse features a stunning display of locally designed architecture and covers 46,000 square feet. Fabulous amenities include two championship Jack Nicklaus Signature Golf Courses and one of the best equestrian facilities in the entire Southwest. Members also enjoy the fitness, tennis, and spa facilities, which feature seven synthetic clay courts, a fitness center, and a professionally staffed spa. Members can also partake of dining at both casual and fine restaurants and showings of artistic, educational, or musical programs.

Las Campanas also understands that pets are an important part of the family. The dog park on-site is a beautiful and grassy two-acre lot featuring a fenced-in park where all residents can gather with their four-legged friends. Unstructured playtime is always encouraged, but residents can also meet each other at a social event like Yappy Hour, where dogs can play as their owners grab cocktails. You can also start your day by picking up a hot drink from the morning coffee cart while your furry friend gets his exercise. There's an additional dog park for smaller dogs (under 25 pounds) who might be intimidated by larger breeds, as well as a solo dog park that's perfect for canines that aren't quite ready for major socialization. All parks are open from sunrise to sunset daily, and they undergo regular maintenance on Tuesday and Friday afternoons.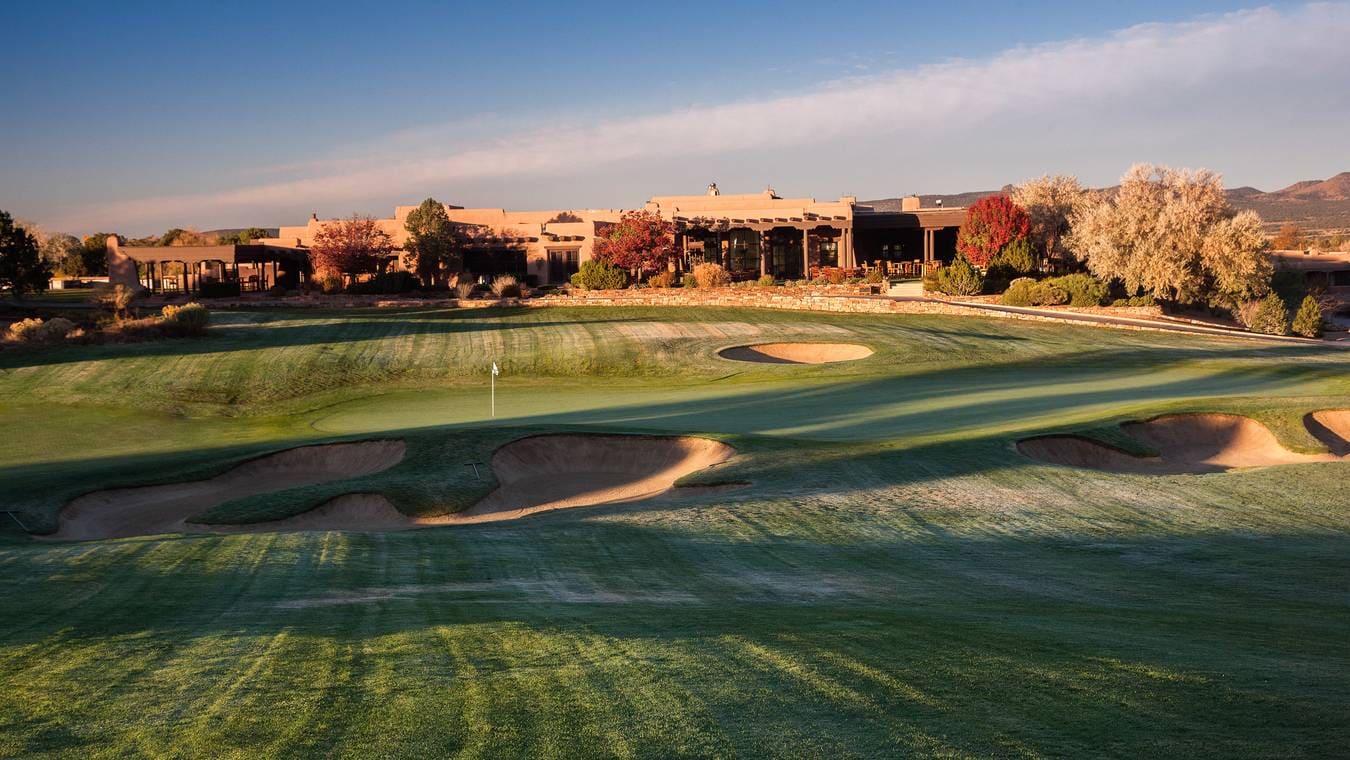 A Golfer's Haven
Las Campanas is a golfer's dream with two award-winning 18-hole Jack Nicklaus Signature Golf Courses located right on the property. The Sunrise and Sunset Courses are both highly rated and acclaimed, often appearing on lists of New Mexico's best golf courses. The two golf courses offer challenging gameplay that engages players, whether they're beginners or seasoned professionals. Players can stop by the 19-acre practice facility to hone their skills.

Both courses were thoughtfully designed to preserve the local wildlife and conserve water usage. Las Campanas initiated a turf reduction effort in 2011 to become more environmentally friendly, restructuring the golf courses to span 60 acres rather than the customary 90. The club is also a member of the Audubon Cooperative Sanctuary Program for Golf.
Equestrians Feel at Home
The Club's iconic Equestrian Center boasts an array of luxurious amenities for riders and their equine athletes. Featuring a 90-stall barn, a 32,000 square foot indoor riding hall, and an all-purpose outdoor arena, equestrians will absolutely love everything this center has to offer. Riders can also enjoy practicing in outdoor jumping rings and exploring over 68,000 acres of open land and trails.

Just getting started with equestrian pursuits? On-site instructors are available to teach riders in various styles, including Western, dressage, and hunter/jumper disciplines. Instructor-led trail rides are also available by appointment. Some Las Campanas homes allow horses on-site, depending on the neighborhood and size of the particular lot.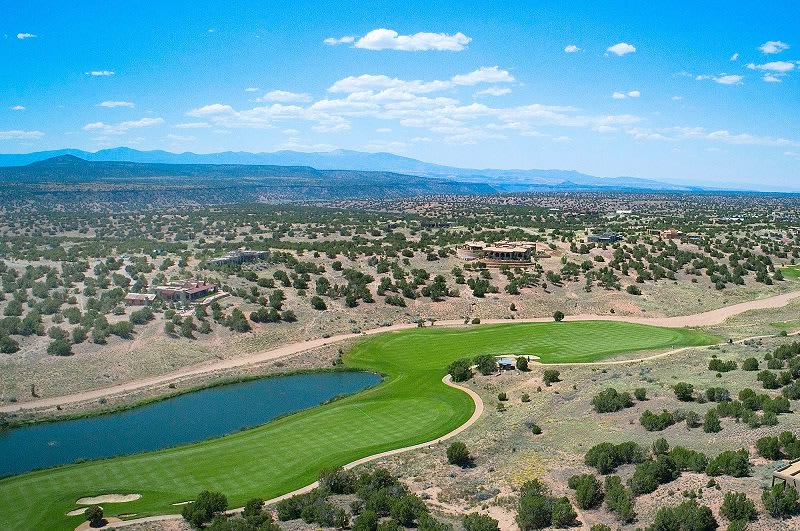 A Relaxing Spa Day is Never Out of Reach
Looking for a way to wind down after a long, stressful day? The Spa at the Club at Las Campanas offers incredible amenities that will get you relaxed in no time. The spa features a full-service menu of treatments, including facials, massages, and acupuncture. Residents can also savor salon-type amenities, getting their hair styled, and being pampered with relaxing manicures and pedicures.

All services are performed by professionally-trained staff, who are on hand to provide a variety of treatment options using SkinCeuticals and Naturopathica products. Members can also attend lectures on topics like nutritional diets, aging, coping with stress, and wellness.
Fit Fitness Into Your Schedule
Stay active and fit with help from the Club's excellent on-site fitness center and tennis courts. Staffed with trained professionals, the fitness center is the perfect place for active residents to work out with help from a personal trainer or various exercise classes. Classes are available throughout the week, including but not limited to spinning, water aerobics, and yoga. Tennis enthusiasts will also revel in the Club's seven courts, where everyone from beginners to pros can hone their skills.
A Birding Paradise
The Club at Las Campanas prides itself on its wildlife sanctuary; seven ponds across a stunning fifteen acres of land have been incorporated into the community. Numerous springtime birds stop by the ponds on their migratory routes, making this an ideal community for birdwatchers. Las Campanas hosts monthly bird walks where enthusiasts can observe the fantastic wildlife, learning from the expertise of a guide.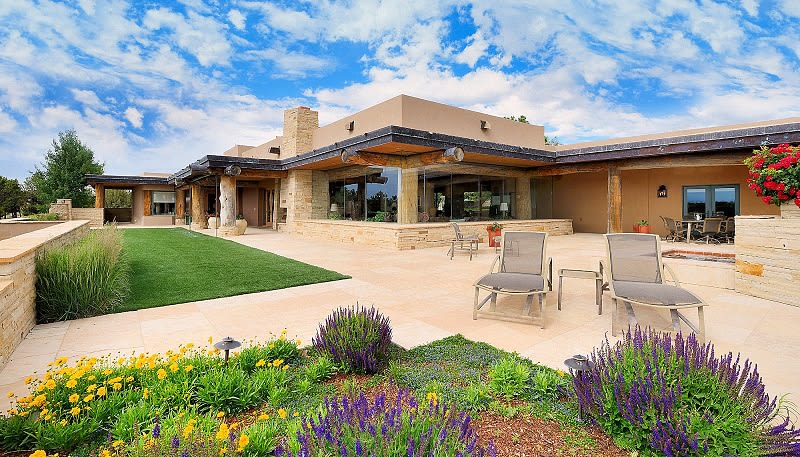 A Surplus of Sunshine
With an average of 300+ sunny days per year, it's hard to be in a bad mood in Santa Fe and Las Campanas, with over one hundred more sunny days than the rest of the country each year. Thanks to this incredible weather, residents can get outside no matter the season. Kids can splash in the pool almost all year long, and anyone can partake in fun outdoor events like hiking, biking, tennis, or horseback riding through the area's winding trails.

Las Campanas is located close to the enchanting city of Santa Fe, which is always a fascinating and engaging place to explore and to enjoy the arts and culture, historical sites, culinary gems, and the City Different's eclectic lifestyle. Set aside a sunny day to head into town on an adventure or head up to the mountains for a walk or hike – only 20 minutes from the downtown Plaza.

Browsing Las Campanas homes for sale to enjoy all this incredible community has to offer? If you need assistance searching for single-family homes in Las Campanas, contact Darlene Streit, a Las Campanas expert. With decades of real estate experience, and a longtime Las Campanas resident herself, she will be happy to help you find the luxury home of your dreams.