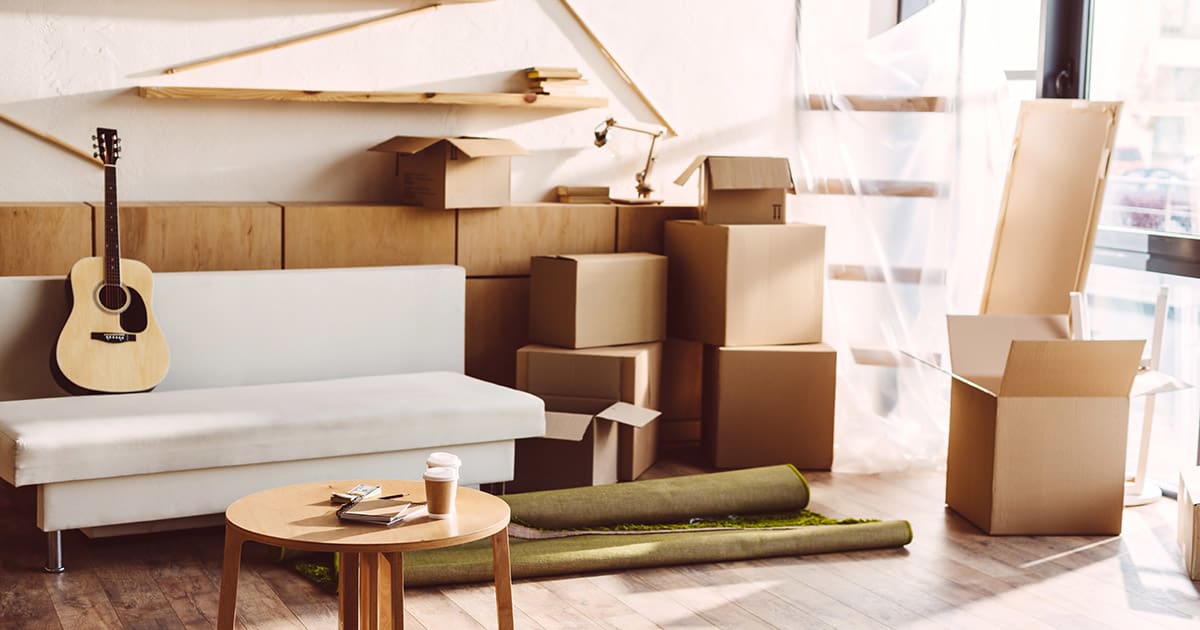 Congratulations on your upcoming move to (or from) Santa Fe, New Mexico! We hope this in-depth checklist will alleviate some of the stress and anxiety that comes with moving. Being organized with an in-depth checklist (like the one below) can help keep you focused and keep your stress levels under control. So let's work on "checking all the boxes" so that you have a well organized and executed move.
Be sure to customize this moving checklist so that it fits your personal needs.
Ready?
Santa Fe Moving Checklist
Two Months Before Moving
Create a Dropbox, Evernote, or Google Drive area for all your digital files related to moving (estimates, records, lists, etc.). Put everything here for easy retrieval when you need to look something up. Put moving receipts here too. In some cases, your moving-related expenses may be tax-deductible.
Gather together everything you plan on donating. By getting these out of the way it will make it easier to pack and organize everything else. Plan a date to drop off the items or have them picked up and don't forget your tax-deductible receipt!
If there are items you wish to sell then list them on eBay, Facebook Marketplace, or plan an immediate garage sale!
Research different moving companies if that's the route you plan on taking. Do a Google search, Yelp search, etc. For any company that interests you, check out reviews on Yelp, Google, and Facebook. Also, check their BBB rating. If you are moving yourself then start getting commitments from friends and family that will help you on moving day.
Make an in-depth visit to the city (and area) you are moving to in order to really get to know the area. In addition (or if you can't visit), start looking up information on the city and the neighborhood. Get a good feel for the area and where places are. Drive the route from home to work and work to home.
If your employer/new employer is helping to pay for the move, get all the information together that you need to fully understand and execute that process. Be aware of what costs they will cover and which ones they will not cover.

A Month and a Half Before Moving
Make reservations for any special travel needs you have like hotels or temporary rentals.
If you have children that are of school age and you are moving during the school year, be sure to make arrangements with the new school and provide proper notifications to the old school. Check with both to see if there are any special considerations you need to follow.
Contact your health and car insurance providers (and any other insurance providers you have like Homeowners/Life/etc.) to make sure that the process of moving your insurance is as seamless as possible. Find out what is needed and get it taken care of immediately.
Create your packing strategy and order any supplies you need (box, packing tape, markers, packing paper, bubble wrap, labels, twine, rope, Fragile stickers, tools for taking things apart, etc.). Create your timeline for packing things and where you'll start/finish.
Finalize on a moving company, date, and time, method of payment, etc. Also, understand that the day of the week you move may affect the costs.
Provide notifications or make transfer/address change/cancellation arrangements for any memberships you have (gyms, organizations).
Put in your request for time off your work for the time you'll need in the days leading up to your move. Many people request up to a week off (for the final week before the move) to deal with all final moving issues.

One Month Before Moving
It's time to start packing! Stay focused and get rid of anything you don't need (throw away or donate).
Properly recycle or dispose of certain dangerous or flammable items that won't be making the trip with you like fertilizer, propane tanks, etc.)
Confirm everything associated with your move (moving times, record changes, move-in time, etc.). Anything you have booked associated with your move should also be double-checked and confirmed.
Get copies of all pet records (immunizations, medical, spay/neuter, etc.).
If you will be driving (especially a great distance), be sure to get a tuneup and check for your car. Make sure fluids are replaced, tires checked, etc.
Make sure all of your friends and family are aware of your move.
Notify any services you use of your move and discontinuation of service. This includes landscapers, housekeepers, pest control, etc.
Work with your real estate agent to make sure that all utilities will be turned on by your move-in date.
For any clothes that need dry cleaning, now is the time to do it. You can keep the protective covers on and pack accordingly to protect them.
Gather together any records you will need for your children's new school.
Start using up your frozen and refrigerated food.
Secure any smaller items (like jewelry) in a safe or a secure container and make arrangements for it to be safely transported to your new home (i.e. will it travel with you?).
Set up mail forwarding with the post office (to start on your moving day or the day before) and update your mailing address with social security, Medicare, voter registration, or other important companies/services.
Study the layout of your new home and make a list of what will go where. Write this on the moving boxes so that everything goes into the room it will belong in.
If you have any outstanding local fees or tickets then take care of them and pay the amount owed.
What furnishings, decorations, or appliances will you need in your new home? Now is the time to start looking, planning, and ordering accordingly. Make a full list (include URLs to items) so that you just have to click a few buttons and place the order. Know when to place the order based on the shipping time that it will take to get to your new home. You don't want it delivered too early or too late so use your list to place orders on specific dates before your move.
Is there anything that will need to be done to your new home (i.e. painting) before you arrive? If so, now is the time to schedule it.
In order to protect everything being moved, purchase moving insurance.

Two Weeks Before Moving
Make appropriate plans for your plants. Give them away or plan accordingly for them to be moved with you.
Did you ever borrow a tool or item from a neighbor or friend? If so, now is the time to return it and thank them for their generosity. Do you have a checked out library book? Quickly return it and pay any fees owed!
Organize the manuals and warranties for appliances you will be taking into one location.
Organize all of your financial, legal, and insurance information into one location.
Organize all of your vital personal files (birth certificates, passports, etc.) into one location and plan on keeping it with you during your move.
Create a list of local service providers (plumbers, electricians, Internet provider, etc.) and emergency numbers for your new home. If something goes wrong after your move you will already be prepared to deal with it thanks to your list.
Will you need a special parking permit for the movers at your new location? If so, make those arrangements now.
If you will be taking pets with you, make sure they are chipped and that they have a collar with ID tags.
Put together your "sweet jams" playlist for moving day – inspirational music to keep you moving. If you don't have time to make one, services like Spotify already have them! Just do a search for "moving" and you'll see a bunch of "Moving Day" playlists popup. Use this on your moving day to keep you moving, inspired, and focused.
Do you have a locker at work, the gym, or another location? If so, now is the time to clean it out.
Now is a good time to refill needed prescriptions.

One Week Before Moving
Update your address with online services you use often, like Amazon.com, online banking, etc.
You're still packing, right? Pack, pack, pack! And make sure that you have a "staging area" for the mover to make it easy for them to access and remove boxes and furniture. Remember to note on each box what is in it and where it goes in the new home. And if something is fragile, slap a large Fragile sticker on it.
Get together any money you will need for tips (i.e. like tipping the movers).
Make a "snack trip" to the store for items you will need for your trip. You may want to consider picking up a few things for the movers too.
Do you have any outdoor items that will be going with you (grill, patio furniture, etc.)? If so, now is the time to clean all of them.
Remove gas from your lawnmower and any other equipment you have that you are taking with you. Now would also be a good time to clean and pack/prepare them.
Clean your house/apartment. And if you are renting, have your landlord conduct an inspection – with you present. Discuss the return of your security deposit or any fees that may have to be deducted. Make sure they have your new address and contact information.
Make sure your trash and recycling get canceled and that arrangements are made to pick up the bins.
Let your neighbors know you are moving, especially if there will be a moving truck in the neighborhood on your moving day.
If you have younger kids, make arrangements for them to be watched on the day you are moving so that they don't get in the way or get hurt.
Check the weather report for your moving day so that you can prepare accordingly.
Confirm any reservations you have.
After packing has concluded, check all nooks and crannies and corners.
Conclude any last-minute errands you may have to run (like a prescription pickup).
Make sure all local services are properly canceled/transferred, including newspaper delivery.

Moving Day
You made it to moving day! Put on your Moving Day playlist and get busy. Tackle last-minute decisions like a pro and keep the process moving forward. Don't forget about dropping off (and picking up) your kids at the sitters place.
Make sure the floors and carpets are protected during the move.
Oversee the moving process and inventory things as they are removed. Offer snacks/water to the movers.
Make sure the mover/driver has all of your contact information and that the delivery address and time are confirmed.
Tip the movers.
After the movers have left do a final sweep of the house, garage, outdoors to make sure that everything is gone.
Make sure your essential items are with you.
If your real estate agent has given you a list of things to do when the house is clear (like turning off or disconnecting certain utilities) then complete that list. Be sure to shut and lock all windows and doors.
Don't forget your kids!
Hand over the house keys to the landlord/agent/new owners.

You did it! Congratulations on your move! Now it's time to create a new checklist of things to do when you arrive at your new location.
If you're working with a helpful real estate broker, like Darlene Streit (505.920.8001) feel free to ask them any questions you have about your move. Darlene is all about customer service.
Also, be sure to add your own items to this list. Customize it accordingly. Copy and paste it into a Word file and delete things that don't apply to you and add other things you can think of that may not be on the list. This list will be a blessing in helping to keep you organized and on task.
Congratulations on your move! This is an exciting time for you.
Learn about Santa Fe neighborhoods: