Having a home office in your Santa Fe home is a growing trend. This is attributed to the growing number of businesses letting employees work from home or people running their own business or side venture. And there is research, by Stanford professor Nicholas Bloom that backs an increase of productivity when employees work at home versus an office (see video below). Because your home office is the hub of your professional life, it's vital that you create an environment that encourages productivity, creativity, and organization.


Research on Working From Home
Here are some ideas to help you renovate your home office and get more done in the process:


Think in Color
What do you want from your office environment? Creative inspiration? Better work productivity? A calming effect? The colors you put on your wall will contribute to your mood while working. For example, red walls are intense and can actually raise your blood pressure – something you probably don't want while working. Yellow is warm and welcoming, but too much can add to feelings of frustration. So what vibe are you looking for? Check out this video by Lowe's Home Improvement titled, "How To Choose Paint Colors" to get some ideas on creating the perfect vibe for your office:

Home Office Paint Color Ideas


Wall Décor That Matters
Now that you've determined your paint scheme, it's time to think about what to do with the wall space. Here are some ideas to consider:


– Bookshelves.

– Inspirational quotes.

– Creative artwork.

– Wall-mounted speakers for music ambiance.

– Your own abstract creations.
The video below shows how easy it is to make a creative abstract art piece for your home office wall:

Abstract Wall Art for Your Home Office


Furnishing Your Home Office
When it comes to furniture and décor for your office, you are looking for things that will make it easy for you to be productive while inspiring you on other levels (i.e. creativity).
Obviously, a desk is most important. The type of desk you buy should depend on the size of your room. For example, if you have a large office space then a U-shaped desk provides the opportunity to change your workspace focus by simply turning your chair. A simple flat desk offers a very open feel. A desk with storage and drawers gives you the ability to keep important items within an arm's reach. A sit/stand desk can allow you to switch from sitting to standing while working. If you want your desk in a corner, then consider a corner desk to maximize space.

Other home office items to consider:


– File cabinet (organization)

– Comfortable chair (that promotes proper posture while working)

– Bubble machine (inspiration/décor)

– Bookshelves (if you didn't put in wall shelves)

– Display cabinet/case (to show off things that inspire you)

– Bean bag (to relax for a short period of time)

– Treadmill (to reenergize yourself and your health)

– Plants (for aesthetics)

– Calendar (for productivity)

– Anything else you can think of that will make you more productive, creative, and focused
Remember to color coordinate your furniture so that it fits in with your wall colors and décor.

Look at some of the furnishings IKEA provided for this home office:

Home Office Ideas and Furniture


Office Layout
Another vital aspect of your office is the way you lay it out. The most important part of your layout will be your office desk. Most Santa Fe homes have absolutely beautiful views. If your home office window has a beautiful view, position your desk near it where you can be inspired by the view while getting an abundance of light. If this isn't an option, then place your desk in a well-lit area of your office.

Also important to your layout is how much stuff you have, the purpose it serves, and what your ultimate goal while working is.

For example, take a look at this minimalist home office layout: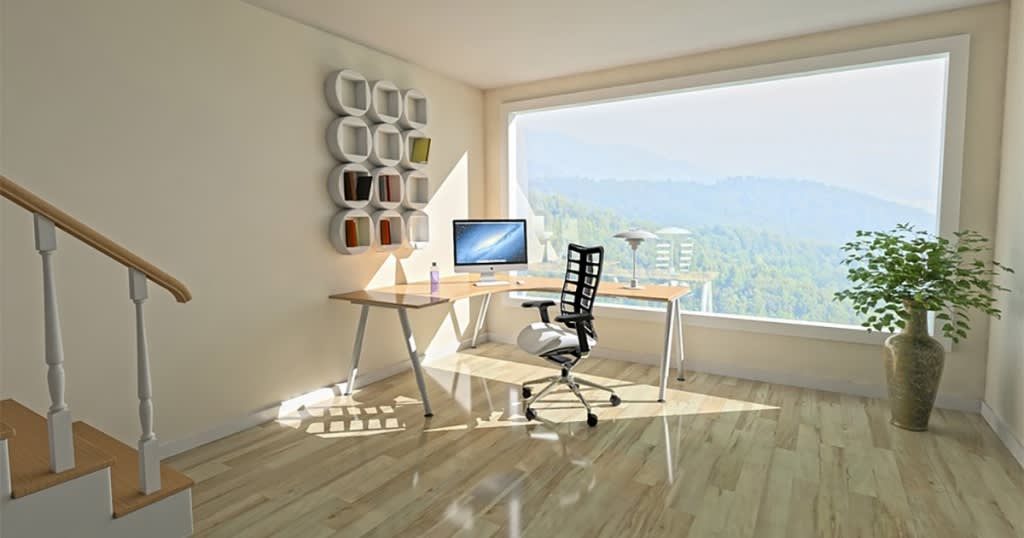 This is a distraction-free minimalist home office design layout.
As you can see, this is a very simple layout that is focused on distraction-free work.

Now take a look at this design that maximizes a small area: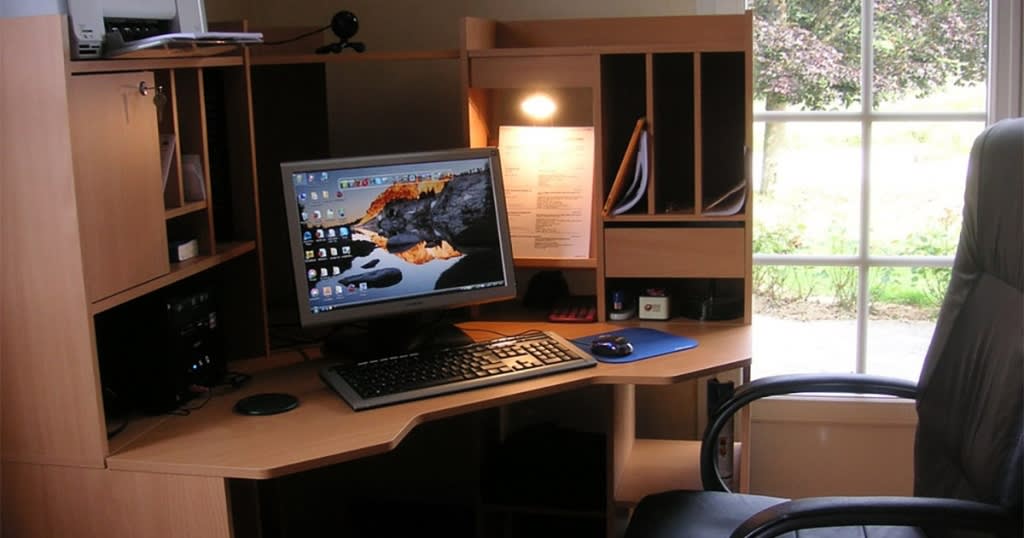 A corner desk can help you maximize small spaces for your home office.
This is a home office that takes full advantage of a small area. The corner desk is compact with a lot of area for storage and accessories. The layout also maximizes the light incoming from the window.


Let's look at a more professional layout design: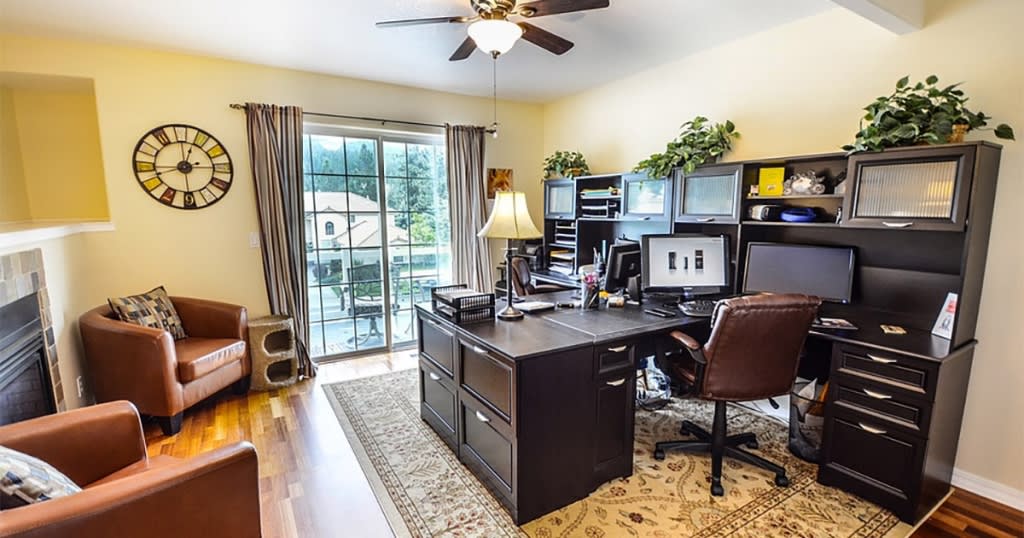 A more professional home office is perfect if you expect to have clients visit.
This office space gives off a very "professional" vibe. It's a home office space that you'd feel comfortable bringing a client into. And there's even room for the cat.


Bringing it all Together
For your office to be effective, your walls, décor, furniture, and layout need to "work together" to create an environment that inspires you. Everything in your office should serve a purpose:


– inspire creativity.

– keep you more organized.

– provide an environment for greater focus.

– etc.
And speaking of bringing it all together, take a look at this video, by Sean Cannell, that shows off his home office design. Hopefully, these ideas will be an inspiration to yours.


And, finally, here is a video by Live Your Style YouTuber Sharrah Stevens on home office space interior design:


Are you excited about your home office renovation now?! I hope it becomes a great source of inspiration and productivity for you. And if you're ever in the market for a new Santa Fe home – one with perhaps a great home office space – then contact Darlene Streit at 505.920.8001.