If your idea of Santa Fe's architecture is only old-world earthen adobes, let us introduce you to The City Different's contemporary design movement!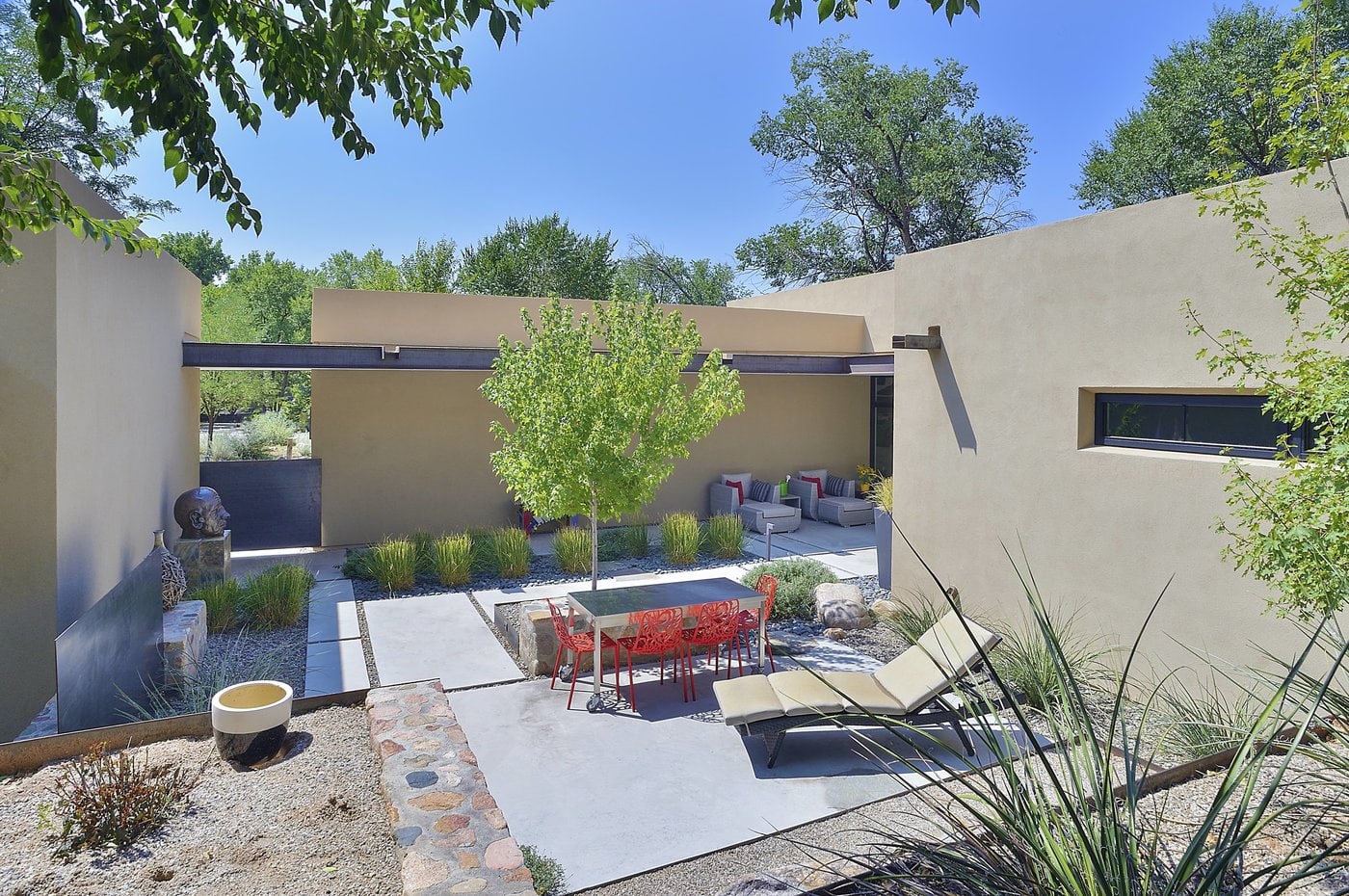 One of Darlene's past contemporary listings, 282 Calle Juanita

Celebrating a history that dates back over 400 years, Santa Fe architecture features native and foreign influences alike: Pueblo facades, exposed wood and iron elements, and heavy, carved doors. This small, southwestern city of around 85,000 possesses one of the most distinctive cultural, artistic and architectural identities, not just in the U.S., but in the world.

Surprisingly, even though it's located in the high New Mexico desert, Santa Fe isn't solely guided by its earthy, elemental heritage. A long-held creative and independent streak informs the city's art scene, and that includes its architecture.

While still deeply tied to its traditional history, Santa Fe offers a vibrant, cosmopolitan lifestyle that connects to its evolving present and expansive future. Nowhere is this more evident than in the community's passion for contemporary architecture.

Head beyond the city's core, historic district, where building codes keep the time capsule aesthetics firmly in place, and you'll find a stylishly hip and far more modern Santa Fe.

Let's travel through the highlights of contemporary architecture in Santa Fe – both residential and commercial – to better understand why The City Different is such a spectacular location to call home.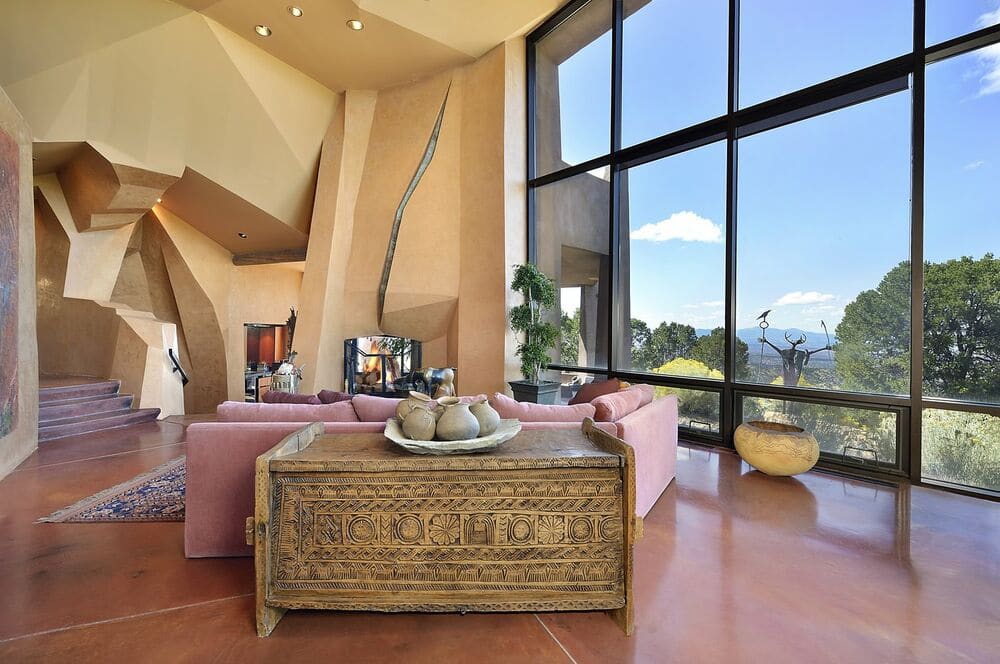 Credit: 3364 and 3365 Paseo Segunda
Contemporary living isn't hard to discover in Santa Fe, there are breathtaking examples of modern design sprinkled throughout the city. A large percentage of the area's homes deviate quite a bit from the city's historical aesthetics. If your dream is to craft that contemporary oasis from the ground up, you'll want an architect and builder up to the challenge. Thankfully, Santa Fe is home to a number of standout firms, and one of the best opportunities to sample their work is through the annual Haciendas: A Parade of Homes.

Sponsored by the Santa Fe Area Home Builders Association, the two-weekend event honors local builders and presents their innovative home designs to the public. More than just a home tour, the Parade of Homes provides future homeowners the opportunity to view different contemporary home styles. You can identify which architects and builders might suit your tastes or whose design philosophies align with your own. Ultimately, it's a convenient way to explore the many possibilities that come with contemporary building in Santa Fe.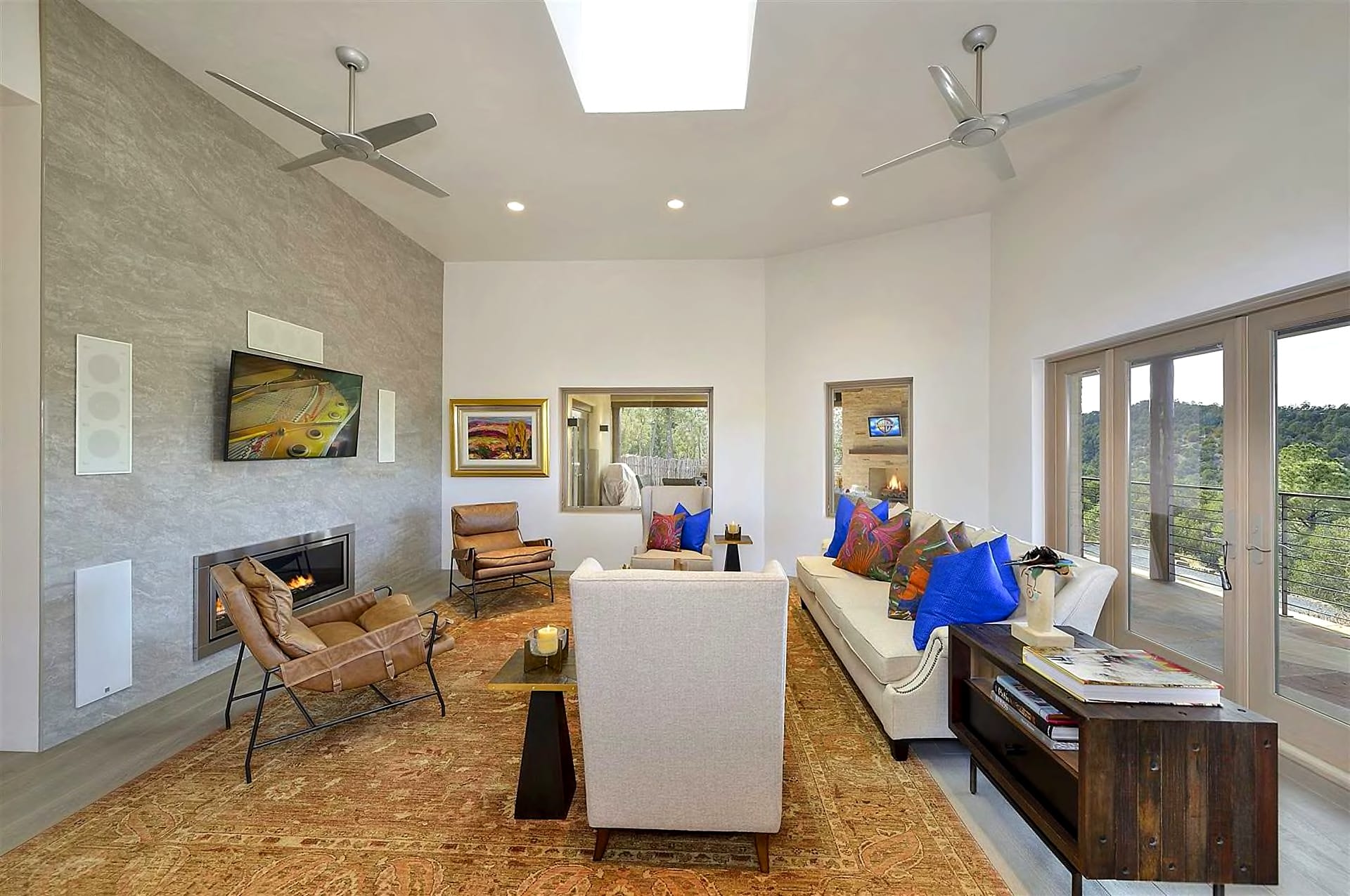 One of Darlene's past contemporary listings, 2335 Wilderness Way
Not looking specifically for a builder? Prefer a move-in ready contemporary home? Many neighborhoods in and around Santa Fe embrace the movement's sleek lines, bold design, and warm accents with a decidedly southwestern flair. Possibly none do it better than the 4,700-acre, master-planned community of Las Campanas. Situated around two lushly manicured Jack Nicklaus Signature golf courses and a multiuse, 46,000-square-foot Hacienda Clubhouse, Las Campanas features some of Santa Fe's most luxurious contemporary residences.

The community is composed of 17 distinctive neighborhoods. Each one is its own unique enclave. What they all share in common is impeccable, upscale housing, a testament to Santa Fe's forward-thinking design. Individual home styles range from contemporary interpretations of New Mexico's old-world adobe-style housing to the sharp lines and stucco, steel, stone, and glass of ultramodern builds.

The interiors impress in equal measure and offer warm accommodations and striking visual details. Additional community amenities include a well-appointed spa and tennis center and the world-class Las Campanas Equestrian Center. Indeed, if your tastes are adventurous and your eye is drawn to forward-leaning stylings, you'll find much to love in Las Campanas.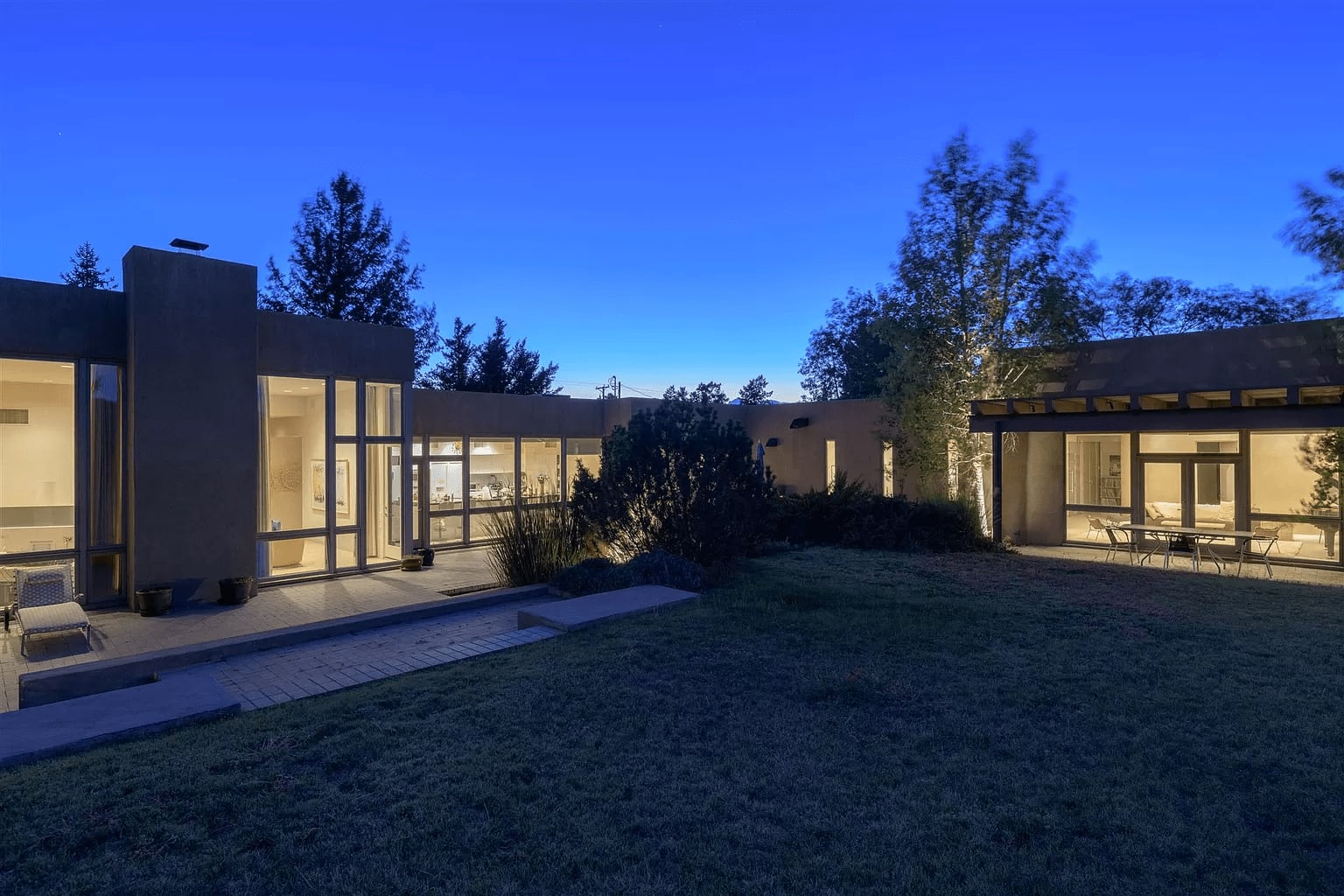 One of Darlene's past contemporary listings, 915 Old Santa Fe Trail

Read more: Forget Palm Springs—Santa Fe Is the New Mecca for Modern Architecture

One of Darlene's past contemporary listings, 814 Camino Atalaya
Admittedly, a place called The Railyard in a city with the famed lineage of Santa Fe doesn't exactly announce itself as a hotbed of contemporary architecture. The railroad interchange was the lifeblood of the Santa Fe community in the late 19th century. As the hub grew, transplants, tourists, traders, and those passing through spent time in the lively Railyard.

In the latter part of the 20th century, The Railyard area was planned, repurposed and reborn. Some of its adjacent historic neighborhoods were protected from modern design interference, but much of the Railyard area was not. The result was a 50-acre destination entertainment and arts district with a distinct contemporary-industrial vibe.

Architectural highlights include international arts organization SITE Santa Fe, Violet Crown Cinema, the Farmers Market Pavilion, 500 Market Place, a number of contemporary galleries, and the one-time teen art collective Warehouse Twenty One. The Baca Street end of the Railyard is a refreshing mix of creative and experimental design, a hodge podge of modern architectural shapes and styles. As a bonus, if you're looking for an architect to help you design the contemporary home of your dreams, several local architectural firms have their offices here.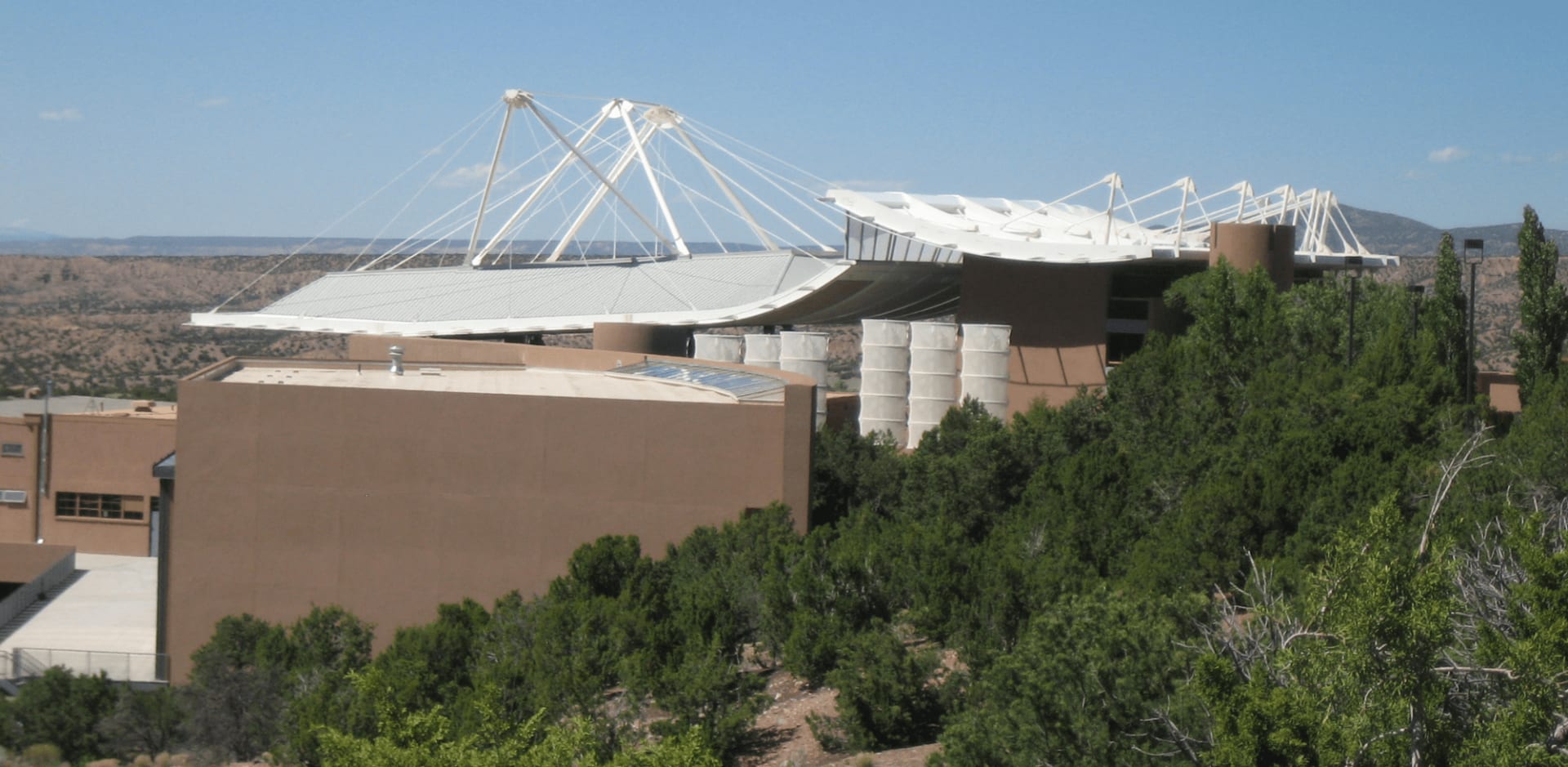 Head north of the Santa Fe Plaza for roughly seven miles, and you'll happen upon one of the true gems of Santa Fe's modern architectural movement: the Santa Fe Opera House. Spread across 155 acres, the campus includes the 12,650-square foot Stieren Orchestra Hall, The Ranch, a 10-acre expanse of hillside offices and rehearsal spaces, and the showstopper, the award-winning 26,615-square foot Crosby Theatre.

The stunningly beautiful and artfully sleek open-air Crosby Theater is a wonder of contemporary design. The 2,126-seat space (plus an additional 106 standing room spots) transforms traditional building materials into an eye-catching, state-of-the-art performance space.

Featuring a sweeping, "shape of the sound" stage and roof design that informs the crisp, clear acoustics, it is open on three sides. Panoramic views of the Sangre de Cristo Mountains in the east and the Jemez Mountains in the west gently compete with the onstage arias and action. Attending a performance here brings the venerated tradition of opera into a magnificently modern open space, where sunsets, lightning storms, and desert breezes only enhance the experience.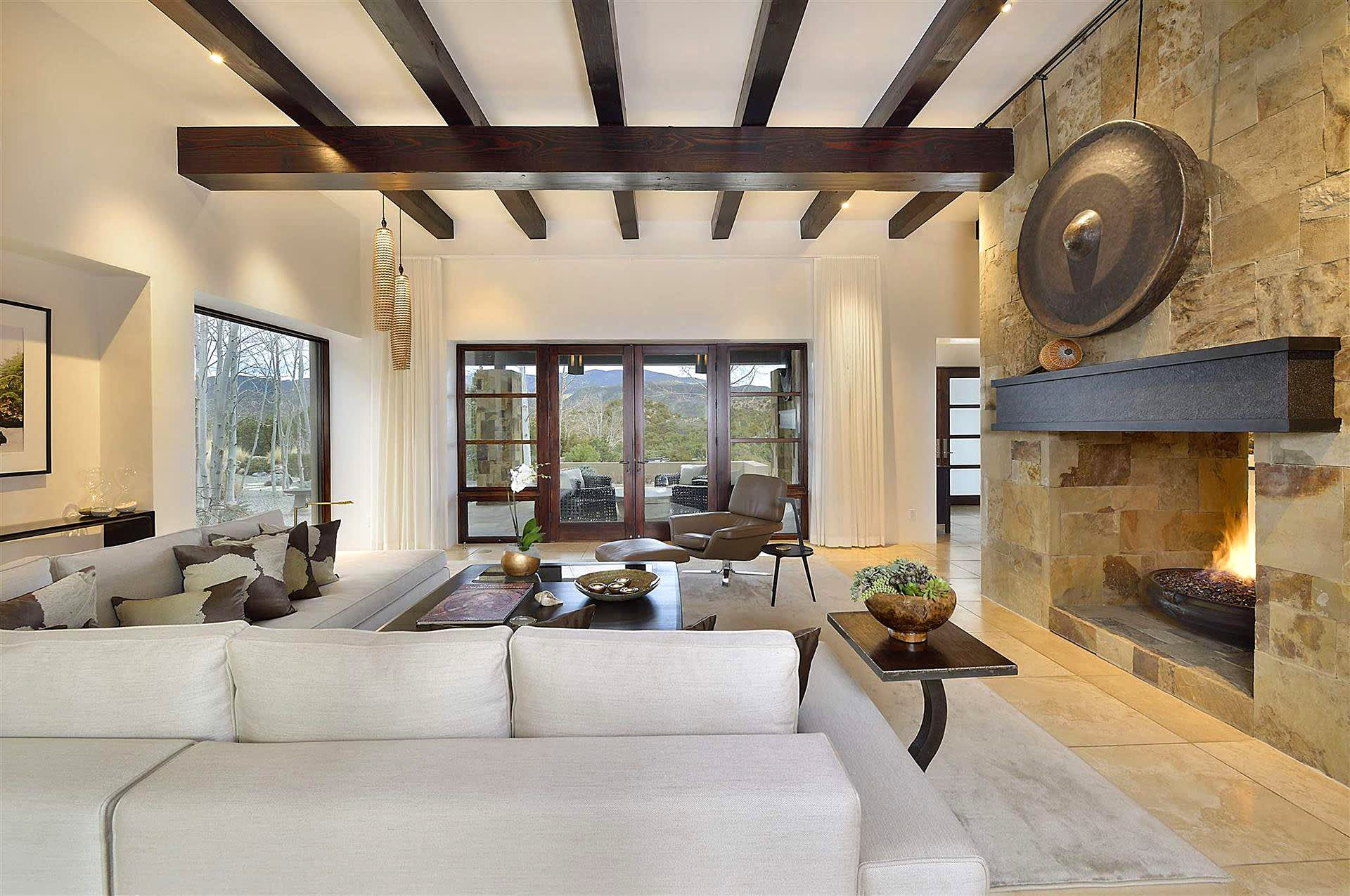 One of Darlene's past contemporary listings, 97 Tesuque Ridge
Seriously, what better way is there to celebrate Santa Fe's contemporary architectural movement than at SITE Santa Fe, its highly acclaimed home for contemporary art? What started in 1995 as a means to host the United States' only international biennial of contemporary art quickly expanded into a permanent exhibition experience for visitors from across the globe.

The SITE Santa Fe building is a standout among contemporary architecture. As one would expect in the realm of art museums built for the here and now, SITE's home is itself a piece of art, in addition to providing programming and exhibition space. The current structure grew from SITE's original home, a beer warehouse, that was converted into an experimental art space. Through an inspired design expansion completed over the course of 2016 and 2017, the building features a protruding exterior ship-like "bow" with perforated metal cladding, making for a dramatic entrance for patrons and Instagrammers alike.

Additions in the rear of the building continue the cladding expansion, completing the bridge between the old and new footprint. The 34,000-square-foot space also includes a 200-seat auditorium, a courtyard, a sky terrace, and minimalist outdoor exhibition spaces that feature several stunning installations and Santa Fe views.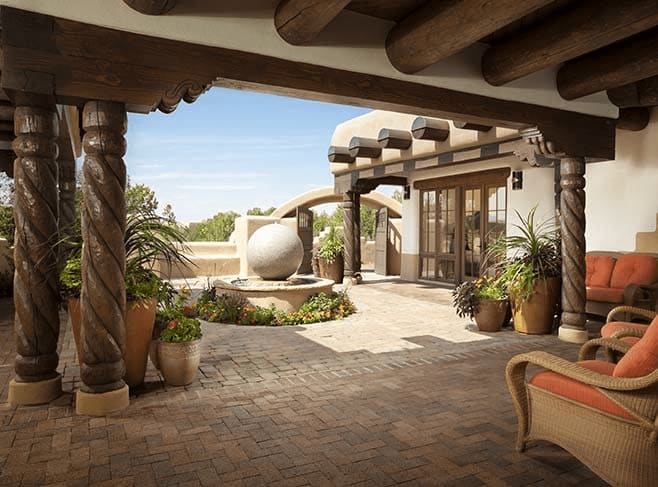 Credit: Tierra Concepts
We close out our list on contemporary architecture spotlighting an architectural firm specializing in the modern design style. With 30 years of designing and building custom Santa Fe homes, the Tierra Concepts team knows a thing or two about crafting the perfect contemporary residence.

Perennial favorites in many Hacienda: A Parade of Homes home tours, Tierra Concepts is a prolific design and building firm, designing and building an extensive collection of the city's contemporary homes and estates. Not one to simply adhere to the commonly accepted rules of what makes a contemporary home, the firm has successfully blended classical media with modern styles.

Many of Tierra Concepts most notable homes incorporate the breezy tradition of the "Santa Fe style." They infuse updated forms and sensibilities through their renovation and remodeling projects while maintaining a property's original charm.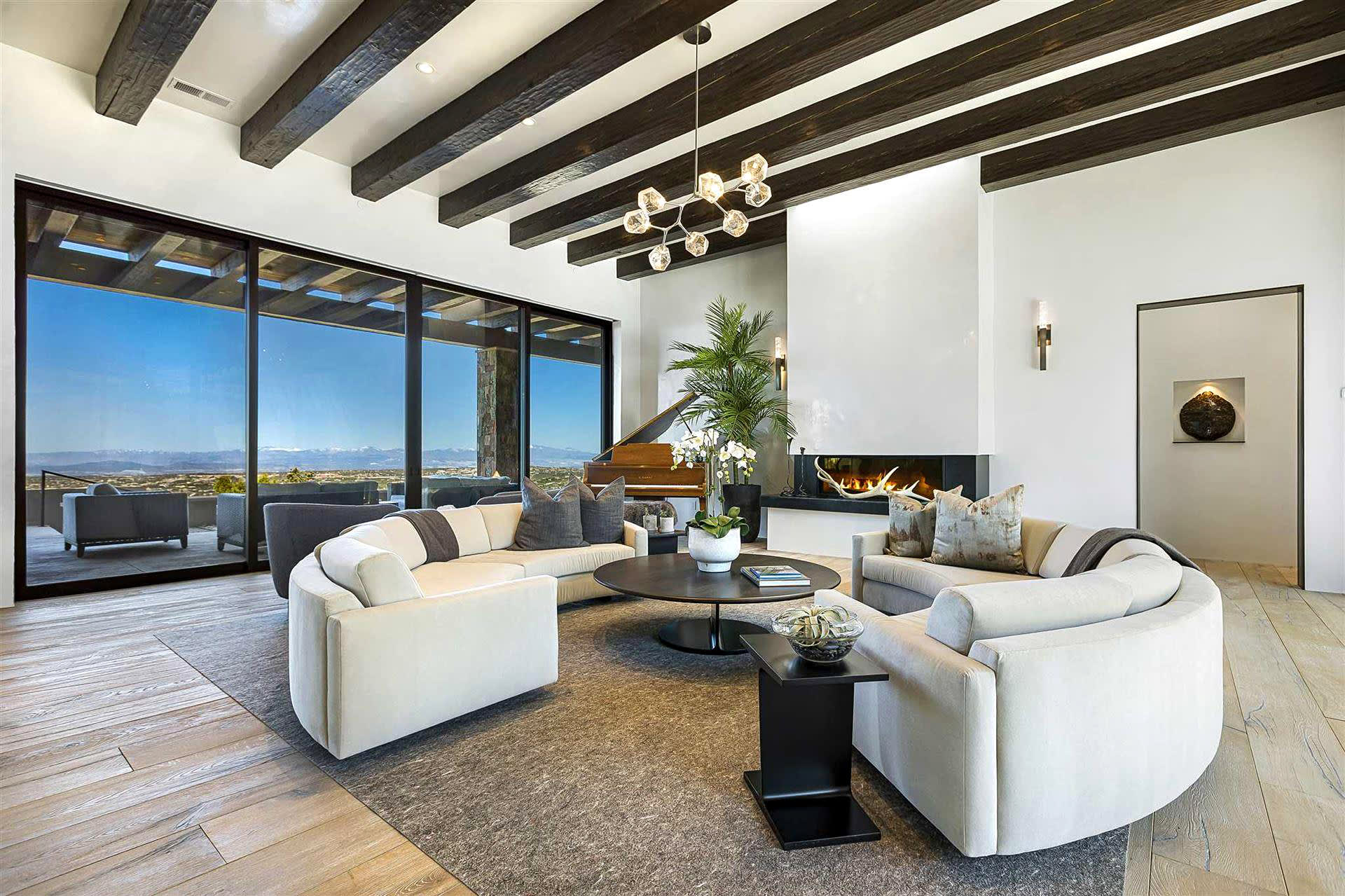 One of Darlene's past contemporary listings, 1005 Monte Serena
Ready to learn more about the architectural heritage of The City Different? Eager to track down your perfect contemporary Santa Fe home in one of the city's premier neighborhoods?

Whether it's a home for sale in Bishop's Lodge Hills or on the Historic Eastside, allow Santa Fe's number one real estate professional to be your guide to The City Different. Contact Darlene Streit today at 505.920.8001 or at [email protected] to start your search.