Whatever season it may be, if the weather cooperates, it's the perfect time to start planning some weekend trips! Lucky for you, there are a plethora of incredible places that are located within close proximity of Santa Fe. The vast expanses of deserts, mountainscapes, historical towns, and prairies offer epic day trip opportunities. Within a matter of just hours, you can find countless places to explore.

If you're uncertain of where to go, don't worry! We've pulled together some of the best day trips near Santa Fe. Whether you are a history buff or prefer to spend time connecting with nature, there is something for you. So what are you waiting for? Grab some snacks and sunscreen (you'll need it year-round at 7,000 feet) and get to road-tripping! Read on to discover our top recommendations for day trips near Santa Fe.
Taos, NM
Located 70 miles north of Santa Fe, Taos is a town worth exploring! The 1.5-hour-long drive is easily doable, making it the perfect option for a day trip. With a population of just under 6,000 people, Taos is a quiet, charming community where residents work tirelessly to maintain historic traditions. Visitors are drawn to the rich spiritual traditions, fine art, distinctive cuisine, natural beauty, and historic elements. Plus, there's a good amount to see and do here, including a variety of galleries, shops, and restaurants. Additionally, it's also home to a world-class ski resort called Taos Ski Village.

One highlight of this town is Taos Pueblo, a Native American community designated as a World Heritage Site. The pueblos are considered to be one of the oldest continuously inhabited communities in the United States, marking over 1,000 years of tradition. St. Francisco de Asis, one of the most photographed and iconic churches, also offers a glimpse into history. This church was constructed between 1772 and 1816 and was originally the center of a small Mexican and Indian 18th-century agricultural community.

If you're looking to enjoy some of the natural landscape, take the High Road to Taos! This scenic byway is composed of a series of winding turns, which is perfect for an exciting afternoon road trip with incredible desert views.
Ghost Ranch / Abiquiú, NM
If you're looking to step back in time, spend the day at Ghost Ranch! After leaving Santa Fe and driving approximately an hour, you enter the truly incredible landscapes of vast vistas, towering cliffs, subtle mountains in the distance, and table-topped mesas. Located near the village of Abiquiú, Ghost Ranch is defined by its stunning beauty and storied history. It is a gorgeous desert retreat and educational center that feels removed from the ordinary fast pace of contemporary living. Ghost Ranch has a colorful past. It was once home to dinosaurs, then early man, then celebrities in the 1920s. Want to learn more about the history of this area? If so, there are plenty of opportunities to do so! Ghost Ranch and Abiquiú boasts a wealth of history education facilities in the area, including Florence Hawley Ellis Museum of Anthropology and the Ruth Hall Museum of Palaeontology.

There's plenty to see and do here – a few activities include guided hikes, archery, canoe rides, massages, and horseback trail rides. But one very popular attraction is imagining the life of a famous American artist who resided here in the 20th century.

Abiquiú and Ghost Ranch were beloved subjects of the internationally renowned artist, Georgia O'Keeffe. Her paintings feature the starkly beautiful landscapes of the area, where she had a second home, from 1943 until her death. Georgia was fascinated by the Pedernal, a distinctively shaped mountain visible for miles, which became the subject of many of her paintings. Moved and inspired by the way it changed in the light and with the weather, she painted it again and again from her studio at Ghost Ranch. Her ashes were scattered at the top of the Pedernal after her death, honoring the bond she felt with the mountain and the land that surrounds it.

Her home in Abiquiú is now The Georgia O'Keeffe Home and Studio. Once her principal residence and studio, it's now preserved as a time capsule of her legacy. It is part of the Georgia O'Keeffe Museum organization umbrella, which has sites in Santa Fe and Abiquiú.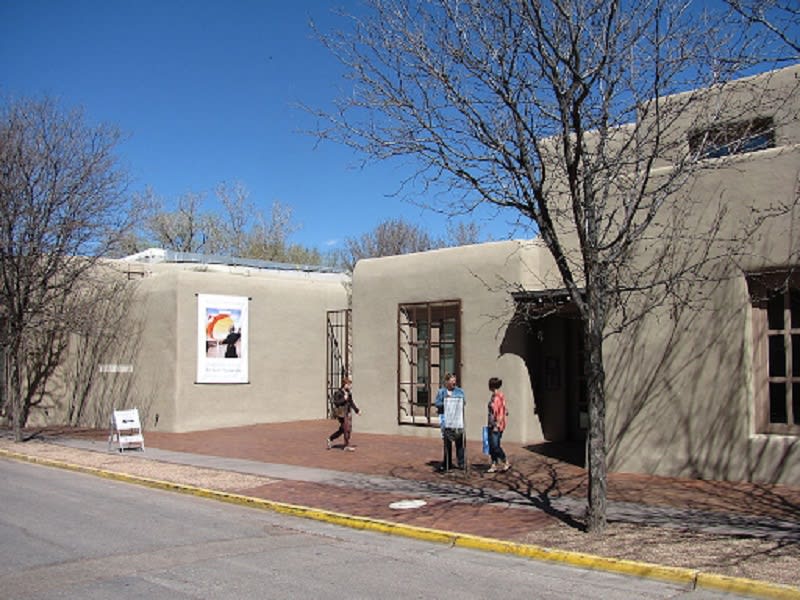 Credit: Wikipedia (Georgia O'Keeffe Museum)
To learn more about her time in New Mexico, you can also visit the museum in Santa Fe, which is dedicated to her life and art. In its ever-changing exhibitions, Georgia O'Keeffe's paintings of flowers, New Mexico landscapes and a variety of other subjects are displayed. Dedicated to her legacy and to further bring attention to her talent, the museum showcases her ground-breaking distinction as a premier American female painter. You can learn more about her life and see her incredible pieces of art at the Georgia O'Keeffe Museum.
Drive the Turquoise Trail
The Turquoise Trail is officially called New Mexico State Road 14 and serves to connect Santa Fe and Albuquerque. This National Scenic Byway is just shy of 75 miles long and makes for a beautiful day trip to Albuquerque, where you'll find a surplus of things to see, do, and eat.

Some of the top activities include taking a hot air balloon ride with Rainbow Ryders Hot Air Balloon Ride Co., riding the Sandia Peak Tramway, North America's longest aerial tram ride, or exploring one of the city's educational facilities, such as the ABQ BioPark Botanic Garden, Explora Science Center and Children's Museum of Albuquerque, and ABQ BioPark Zoo. Needless to say, there's something for everyone here!
Madrid, NM
Another destination adventure on the scenic Turquoise Trail is to experience the village of Madrid. Tucked away in the valleys of the Ortiz Mountains, this small village is less than an hour away from Santa Fe, but it feels a world – and a few decades back in time – away. Located less than 30 miles south of Santa Fe, Madrid is a tiny census-designated community with a permanent population of below 200. It originated as a coal mining and ghost town (which still gives it much of its distinctive, timeless flavor) but it has also evolved into an artistic, quirky, eclectic, and colorful town.

This tiny creative community is now home to over 40 shops and galleries, several restaurants, a spa, and a museum. There are also some unique activities and events that take place here, given the wildly expressive and anything-goes 'hippie' vibe here, so be sure to keep an eye out for those! Spend the afternoon browsing art at 10pm Steampunk, peruse local creations at Gifted Hands, and shop for authentic Pueblo pottery at Gypsy Gem. After you've thoroughly explored the town and had a bite to eat, consider heading a couple of miles north to the quaint village of Cerrillos, which features a state park with hiking paths and horseback riding.
Jemez Springs, NM
If you're someone who enjoys exploring the great outdoors, then we've got just the place for you. Jemez Springs is situated 71 miles west of Santa Fe and offers visitors and residents plenty of exciting outdoor recreational activities! Visitors and locals alike are drawn to the outdoor adventure, immersive history, and culture here.

Surrounded by Santa Fe National Forest, Jemez Springs offers outdoor activities galore. Some of the top activities include fishing, hiking, camping, and picnicking. There are at least 10 hiking trails in the area ranging from easy to difficult. Regardless of your skillset, you can find a hike suitable for you. It's also a great spot for wildlife viewing and photography. You'll love the chance to spend the day exploring the area's numerous natural landscapes.

As its name implies, Jemez Springs is abundant in natural hot springs, which attracts visitors from all over. Primitive hot springs make Jemez Springs loved by hikers who are rewarded with stunning waterfalls and relaxing hot springs. Spence Hot Springs, located near Soda Dam, and McCauley Hot Springs, found near Battleship Rock, are both accessible via hikes. There are also commercial hot springs, spas, and bathhouses for those who prefer a more structured environment to soak and rejuvenate. Regardless of what you decide to do, Jemez Springs is a great getaway in nature and slow living.
Bandelier National Monument
Located just 40 miles away from Santa Fe, Bandelier National Monument is spread over an expansive 33,000 acres of stunning natural geography. This breathtaking area contains ancient ruins, steep, narrow canyons with plentiful wildlife, mountains stretching up to over 10,000 feet, a colorful section of the Rio Grande Valley, and plenty more. The monument is just a few minutes' drive away from the scientific research laboratory town of Los Alamos and several historic pueblo settlements. It is also a landmark with over 11,000 years of human history.

Visitor activities are concentrated in a short section of Frijoles Canyon, which is a 400-foot deep, sheer-walled gorge that contains the main ruins. Visitors can peruse petroglyphs and the remnants of masonry walls from early societies. And that's not all! You can also climb ladders to view cave dwellings, meander through streams, and explore walking paths. You'll be sure to make plenty of memories after a day spent here!
White Sands National Park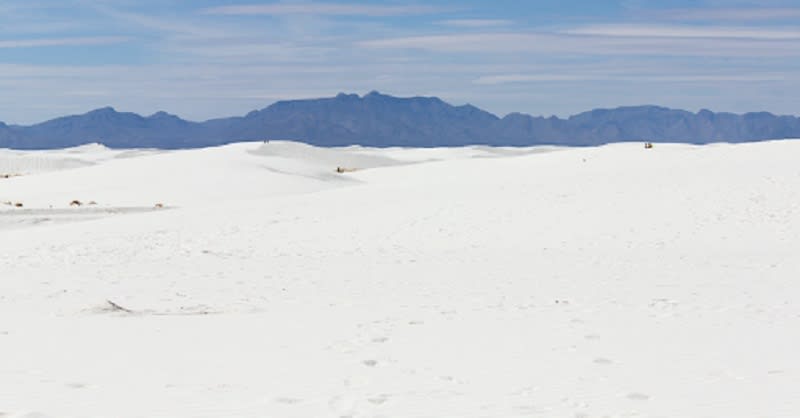 Rising from the heart of the Tularosa Basin is one of the world's great natural wonders: the glittering white sands of New Mexico. White Sands National Park features an awe-inspiring natural display of white sand created primarily from gypsum crystals. It stretches for more than 275 square miles and is considered one of the world's largest gypsum dune fields. The timeless, glistening gypsum dunefield has nonetheless witnessed the steady advancement of human history, technology, and engineering. As a nationally protected land, it preserves the area's unique wildlife. Once you've laid eyes on the rolling white sand dunes, it's not hard to understand why this area has been used as a setting for movies.

If you're looking for additional road trips, we suggest:

◾ Tent Rocks - Located approximately 40 miles southwest of Santa Fe, this national monument features cone-shaped tent rocks.

◾ Chimayo - Situated in the foothills of the Sangre de Cristo Mountains and just 40 minutes from Santa Fe, the village of Chimayo is known for its special historic churches, several weaving shops, and delectable food.
Ready to start a fulfilling adventure finding your perfect Santa Fe home in the perfect Santa Fe neighborhood? Whether it's homes for sale in Bishop's Lodge Hills or exploring Historic Eastside real estate, allow Santa Fe's number one real estate professional to be your guide to The City Different. Contact Darlene Streit today at 505.920.8001 or at [email protected] to start your search.