As one of the most beautiful and romantic towns in the United States, Santa Fe is home to just over 84,000 residents. Nestled in foothills and located in the high desert of northern New Mexico at 7,000 feet, Santa Fe has a plethora of appealing qualities. It is home to truly unique architecture, a rich history, a temperate climate, a high quality of life, and a colorful personality. Clear, blue skies and stunning landscapes add to the raw natural beauty of Santa Fe.

It's all these reasons — and many more — that make investing in Santa Fe real estate a great idea. Read on to learn five top reasons Santa Fe estate is an excellent investment.
The Price is Right
If you're looking for spacious homes for an unbeatable price, you'll be sure to love all that Santa Fe has in store. Homes in Santa Fe tend to boast large lot sizes for reasonable prices. The market features a wide spectrum of homes, ranging from smaller, more affordable options to gorgeous properties that epitomize luxury living. Additionally, you'll also need to consider which neighborhood you'll want to buy in. Santa Fe is home to many appealing neighborhoods, ranging from quiet communities to bustling downtown districts. Regardless of what you are looking for, there's something for your tastes!

Single-family homes here often blend traditional Southwestern architecture with contemporary stylings. Santa Fe real estate features a wide array of styles, but some of the most popular include Territorial Revival, Santa Fe Style, and Pueblo Revival. These comprise the three core architectural styles that can be found in Santa Fe. Although they often look similar at first glance, each one comes with some distinct differences you can identify with just a bit of experience.

Territorial Revival can be traced back to the 19th century, although it was founded on much older design traditions. Here you'll notice decorative trims echoing Gothic and Greek architecture. Other defining features include flat roofs, hard, angular edges, and sometimes brick around the roofline. Meanwhile, Santa Fe Style can be recognized by its flat roofs hidden by raised parapets, corbels, vigas, turquoise or blue doors, soft lines, and stepped buildings. Pueblo Revival tends to focus on soft, rounded corners and exposed wooden support beams that are reflective of adobe. Despite how big and impressive this building may be, it still feels warm and cozy.

Of course, beyond the traditional, Santa Fe is also filled with contemporary architectural options. A growing number of new homes and renovations sport a modern design with large windows to take in panoramic views, clean angles, and minimalist aesthetics. There is also what is called "soft contemporary" which combines the best of both classic Santa Fe Style with a modern sensibility.

With such a distinctive selection of architectural and design choices, finding a home that suits your personal style is a good bet here.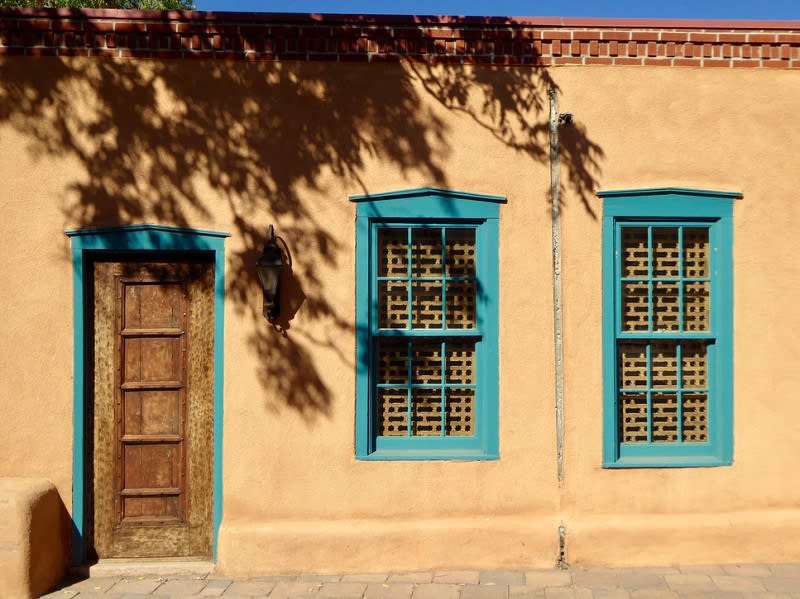 Location, Location, Location
"Location, location, location" is a common mantra in real estate, and when it comes to investing, it couldn't be more true. A good location can signify different things to different people, but there are some important overarching factors worth noting. Your decision on where you choose to live in a town will inevitably impact how much you pay for your home.

A great neighborhood will have a few key factors in common. This includes accessibility, appearance, and amenities. In terms of accessibility, it's a good idea to look for a neighborhood that is located near a city's major transit routes and oft-used services. Also, a great neighborhood should include important amenities, including nearby grocery stores, shops, and restaurants. If you have kids, then schools are another important consideration. Even if you don't have children, if you opt to sell your house in the future, many buyers will want close access to school. Here are some more factors that make for a good location when it comes to investing in real estate.

So how does Santa Fe stand in terms of location, location, location?

Santa Fe is one of the country's oldest historical cities, founded between 1607 and 1610, which gives it a unique character and a colorful history. Additionally, residents enjoy clean air, mild weather all year long, and more than 300 days of sunshine — much higher than the national average of 205 days per year. Residents also get to experience four distinct seasons, and hiking, biking, skiing and the mountains very close by. These characteristics set Santa Fe apart from many other locations throughout the United States.

As a small city, Santa Fe offers the luxury of light traffic and the ease of getting across town in 20 minutes or less. Even homes that are set in Las Campanas or Tesuque have easy access to the city proper.

Living near the center of Santa Fe provides quick access to restaurants, galleries and cultural events, and the walkability factor is a draw for many in neighborhoods such as the Historic Eastside and South Capital.

With its own airport, a central location in the Southwest, and a diverse variety of neighborhoods and amenities, Santa Fe solidly competes with other comparable cities in terms of the benefits of a very desirable location.
Small-Town Charm, Big-City Feel
Life in Santa Fe is far from boring! Santa Fe is a small friendly community with big-city amenities. Between the small-town charm and big-city feel, residents of Santa Fe get to experience the best of both worlds. Thanks to the smaller population, there is little to no traffic compared to other areas in the country. This community boasts a cosmopolitan vibe that continues to grow as celebrities and people from all over the world make Santa Fe their home. Whether you are a history buff, outdoor enthusiast, or dedicated foodie, this bustling town has something for you.

Rich in culture, Santa Fe features an abundance of art, opera, symphonies, and festivals. Spend the day browsing or perhaps buying artisanal artworks at the annual. If you enjoy opera, then enjoy a refined evening out at Santa Fe Opera. Each year, this opera hosts a world-class lineup of dazzling performances. Similarly, the Santa Fe Symphony Orchestra & Chorus offers numerous concerts, live events, and virtual performances that guarantee a memorable evening out. If you're new to town, consider attending one of the many annual festivals that take place here! Some of the most notable besides the world famous Indian Market and Spanish Market include the Santa Fe International Folk Art Market, Santa Fe Independent Film Festival, Annual Santa Fe Wine Festival, and the Santa Fe Wine and Chile Fiesta.

Santa Fe also proudly boasts a plentiful and diverse culinary scene that is sure to impress. For a night out with your significant other or friends, head over to Geronimo. This restaurant, which specializes in New American fare, is tucked inside a 1756 adobe home. If you're craving Mexican, head over to La Plazuela at La Fonda on the Plaza for some mouth-watering New Mexican cuisine. If you're looking for an upscale dining experience, make reservations at Radish & Rye or partake in Italian fare in an intimate bistro setting at Sassella.
Outstanding Outdoor Recreation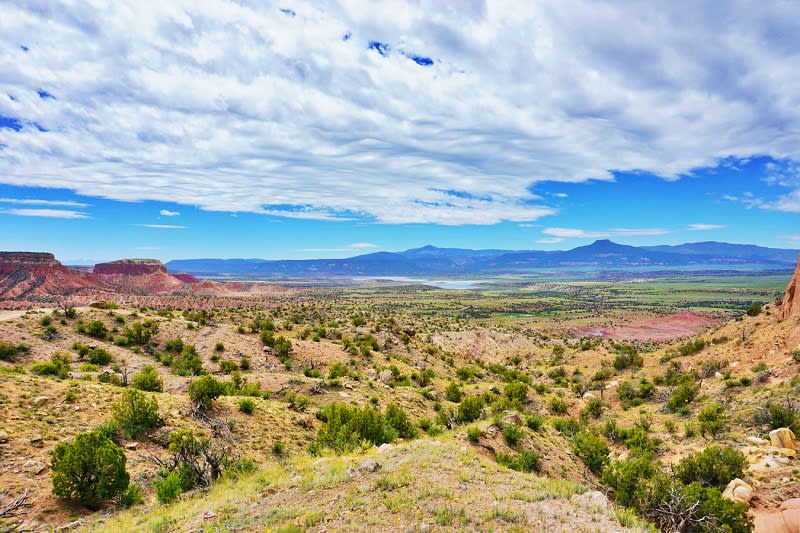 Another reason that makes Santa Fe an excellent and desirable investment opportunity is the numerous outdoor activities within reach. After all, the mountains are located just 20 minutes away from downtown, which gives residents close access to nature. From skiing to hiking to camping, Santa Fe has it all. The sunsets, raw beauty and rugged terrain are other things that make this Southwestern jewel even more enchanting.

Spend the day skiing at Ski Santa Fe. Located approximately 25 minutes from downtown, this ski resort offers the perfect spot for avid skiers and snowboarders. When it comes to hiking, there's also a myriad of trails available nearby, as well as some natural hot springs that are perfect after a long hike. River trail courses run alongside the Santa Fe River, while more trails are available in and near the mountains. There are also plenty of trails that can accommodate mountain bikers. More casual riders can visit Routes Bicycle Tours & Rentals for a more laid-back day of exploration. If you're looking to get in some tee time, you can do so at The Club at Las Campanas or Quail Run Golf Course.

Regardless of your preferred outdoor recreational activity, Santa Fe has something for everyone. Locals and visitors alike come here to connect with nature and explore the great outdoors. Purchasing real estate in Santa Fe isn't only a financial investment — it's also an investment in a healthy, active lifestyle.
A Long-Term Investment
Investing in Santa Fe real estate is also a long-term investment with a potentially high return on investment. Multiple magazines and publications recognize the city as a great place to live, so the quality of life will continue to draw people here, raising the desirability factor even higher. And as stated above, Santa Fe offers a myriad of appealing qualities that are timeless.

While the pandemic undoubtedly presented its unique set of challenges, the hot Santa Fe real estate market that followed reflects the trends that are also being seen nationally. Buyers still are seeking to find part- or full-time residences in small cities with wide-open spaces and close access to nature — all of which can be found in Santa Fe. Darlene and her talented, experienced staff continue to offer unparalleled concierge services while elevating the buying and selling experience for her clients. This level of personal attention and Darlene's track record of unmatched success have earned her the distinguished status as the undisputed market leader in all price ranges throughout the Santa Fe area.

When it comes to options to diversify and expand your portfolio, real estate continues to be a relatively low-risk investment. Investing in Santa Fe real estate allows you to confidently increase your assets and enhance a well-rounded investment portfolio. Whether purchasing a vacation home, relocating to this uniquely beautiful city or obtaining an investment property, Santa Fe remains a highly desirable location due to all the perks of living in such a remarkable location. With interest in Santa Fe growing every year it's highly likely that market prices will increase, as more and more people look to own their corner of this gorgeous Land of Enchantment.

*Header Credit: Darlene Streit (Sotheby's)