Get Outside and Enjoy the Beauty of Santa Fe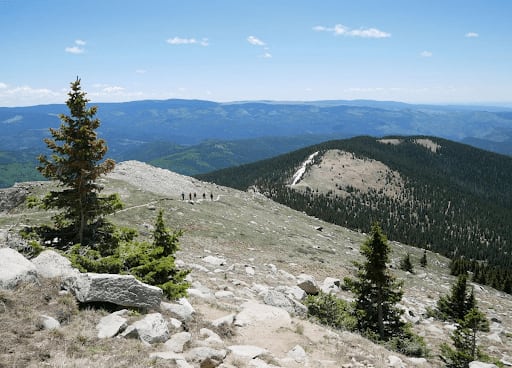 Credit: Santa Fe New Mexican
New Mexico's unique and gorgeous capital city of Santa Fe is an incredible place to spend time throughout the year, whether you're dining at award-winning restaurants, experiencing the art scene, or soaking up the area's rich history and culture. If you're looking to get outside and experience Santa Fe's natural beauty this summer and fall, there are plenty of fun activities to try. Read on to learn more about some of the best outdoor activities to try in Santa Fe.
1. Go for a Scenic Hike
You can't beat a hike for great exercise, and thanks to the area's truly breathtaking natural beauty, you'll have the time of your life exploring local trails! The Sangre de Cristo Mountains are home to some fantastic trails for hikers of all skill levels, like the
La Tierra Trails
, perfect for not only hiking but also biking, horseback riding, and motorcycling. Hiking enthusiasts will definitely want to explore northern New Mexico's highest peak,
Santa Fe Baldy
, which is located at the southern end of the Sangre de Cristo Mountain Range. This rugged wilderness offers a seven-mile hike winding through groves of pine and aspen, and the trailhead is located only 30 minutes from Santa Fe. From the summit, you'll enjoy fabulous views of the Jemez Mountains, Sandia Mountains, Truchas Mountains, the plains, and the Rio Grande Valley.
Browse the
interactive map
of Santa Fe's amazing trails to learn more about the incredible opportunities this area has to offer. Venture through shaded forests of juniper, pinon, and ponderosa trees or pass through meadows of Indian paintbrush, purple lupine, and many colorful wildflowers—Santa Fe's beauty must be seen to be believed! You'll also enjoy stunning views from ridgetops and mountain summits.
If you're looking for something a little different, check out the
Bandelier Backcountry hike
offered by Outspire. This adventure takes you through the backcountry of the Bandelier National Monument, offering a peaceful respite from the crowds that usually flood the area. The day-long expedition winds through remote canyons and beautiful groves of Ponderosa pines, the perfect way to experience the area's tranquility.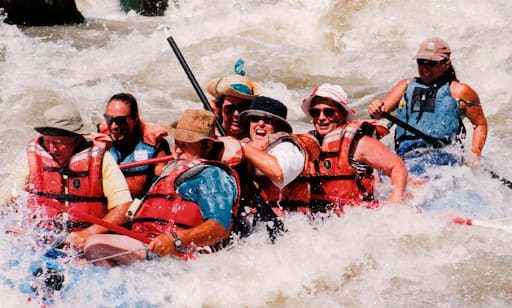 Credit: Visit Taos New Mexico
2. Have a Whitewater Rafting Adventure
Whether you're looking for a high adrenaline expedition or a relaxing float down the river, there's an amazing whitewater rafting experience for you in Santa Fe. On your rafting trip, you can explore the Rio Grande or the Rio Chama, which are designated as some of America's Wild and Scenic Rivers.
Stop by
Big River Raft Trips
for everything you need. Enjoy a relaxing dinner float or a thrilling rapid trip down the Rio Grande, depending on your skill level. Rafting is a great way to cool down on a hot summer day and is a fun activity to share with the whole family. Big River offers full-day experiences, which include three hours of excitement on the water and two hours of fun in the sun featuring a delicious picnic. Rafters can also choose to explore the Rio Grande Del Norte National Monument on a scenic float led by an experienced interpretive guide. They're also known for their Steaks and Raft Trip, where a tasty meal of steak, baked potato, corn on the cob, and ice cream is included in the price. All that rafters need to bring are sunscreen, a water bottle, quick-drying clothes, and soft sole shoes—Big River supplies all the necessary rafting equipment.
3. Go Fly Fishing
Experience a fun sport and learn a new skill by participating in a fly fishing trip!
Land of Enchantment Guides
offers guided fishing trips in the Santa Fe area and are able to work with fishers of all skill levels, so no prior experience is required. All gear, including rods, reels, custom tied flies, and wading equipment, is provided at no additional cost, and transportation is included to and from the fishing spots. Day trips also include delicious lunches, snacks, and drinks.
If you're looking for an even more immersive experience, you can also opt for an overnight or multi-day
Fishing Package
that includes meals, lodging, and transportation. Thanks to Land of Enchantment's partnership with local ranches and hotels, there are a variety of lodging options for those who want to experience a multi-day fishing excursion.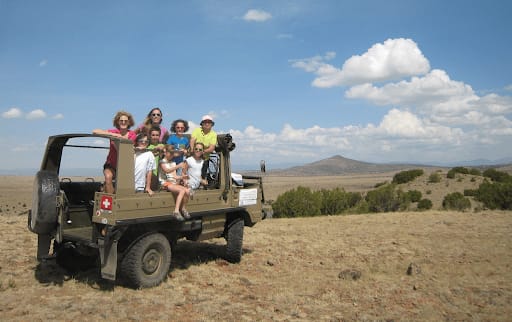 Credit: New Mexico Tourism Department
4. Explore the Area on an Off-roading Tour
Want to get up close and personal with some of Santa Fe's historic natural beauty? Check out
Santa Fe Mountain Adventures
, which offers exciting, guided off-road adventures. On these high octane excursions, you'll hop aboard a Swiss Army vehicle and hit the road. There are multiple options for exciting tours that your family will talk about for years to come.
Try the Diablo Canyon Adventure, a 2.5-hour tour that drives through a remote canyon and along arroyos and dirt trails, offering spectacular views of cliffsides and the historic Chili Line railroad that once connected Santa Fe to Antonito in the late 19th century. It's a great expedition for anyone who's interested in Santa Fe's fascinating history. If you have a little more time, check out the Historic Route 66 tour, a 3-hour adventure that leads through the heart of Santa Fe toward La Bajada Hill. Along the way, you'll catch glimpses of the Route 66 signage and incredible views of Ancient Puebloan basalt rocks!
Thrill-seekers will have a blast on the Elk Mountain - Call of the Wild tour. This longer and more challenging Jeep 4x4 tour lasts five hours and takes you from 1-25 to moderately challenging dirt roads, eventually leading along with one of New Mexico's highest mountain roads with a summit of 11,661 feet above sea level. You'll enjoy incredible views as you travel from the rugged Truchas Peaks to Hermit Peak.
5. Relax at the Hot Springs
Located close to Santa Fe,
Stagecoach Hot Springs
is the perfect place to kick back and relax along the Rio Grande. The thermal springs, also known as Manby Hot Springs, attract many visitors in the summer who are drawn by the area's natural beauty. A large portion of these visitors choose to hike their way to the springs, enjoying the sweeping mountain views. The beautiful springs are located at the bottom of the Rio Grande Gorge, featuring four hot pools along the river. Each pool is rock-walled and approximately two feet deep with bottoms of sand and gravel. The springs are free to visit, and while no camping is permitted, hiking is welcome.
You might also choose to visit
Ojo Caliente Mineral Springs
, a popular choice for Santa Fe residents and visitors looking for a relaxing, tranquil oasis. As one of the oldest natural health resorts in the country, Ojo Caliente includes four different types of mineral water in 12 pools, each featuring different combinations of these waters. Temperatures in the pools range from 80 to 106 degrees. While Stagecoach offers a more rustic experience, Ojo Caliente is great for visitors who want to relax in a spa-like atmosphere; all of the Springs are located in a "whisper zone," limiting the amount of noise.
Private outdoor pools are also available for visitors, where you can soak up the New Mexico sunshine or gaze up at the starry nighttime sky. Each private pool includes a kiva fireplace and your own personal soak in mineral water; the experience costs $55 for two people to enjoy the pools for 50 minutes and $25 per additional person, up to six total. Ojo Caliente also offers some fun experiences like a Mud Pool, where you can splash around in a special blend of clay that contains beneficial natural minerals! This is great for releasing the toxins from your skin's pores, as well as offering a fun and relaxing experience to your group. During the summer, Ojo Caliente's Mud Pool is open from nine in the morning until sunset.
Once you've enjoyed the hot springs at Ojo Caliente, there are plenty of great ways to continue your relaxation. Pay a visit to the Intention Garden, where visitors can practice mindfulness in a gorgeous, wildflower-filled setting while being guided through a gentle yoga class by a trained instructor. Yoga classes are offered each day for participants of all skill levels, whether you're just looking for a relaxing morning activity or a restorative course. The class incorporates the healing waters from the Springs with the practice of yoga, ensuring an optimal relaxation experience. After a visit to the Intention Garden, you'll feel rejuvenated and ready to head off to one of Santa Fe's many other outdoor adventures!
If you're searching for your Southwest home base in Santa Fe from which to enjoy these wonders, contact real estate agent Darlene Streit today. Ranked as Sante Fe's top broker with over 20 years of experience, Darlene will help make your real estate dreams come true!